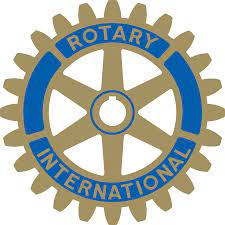 At the Carmi Rotary club Thursday meeting, two of the members told about a recent trip to an Evansville Thunderbird's game.
Tom and Sherri Logan ventured in to the Ford Center on Sunday to watch the Thunderbirds take on a team from Huntsville, Alabama. There was a good crowd on hand, Tom estimated that around three thousand were inside for the game.
Tom said the old line "I went to a fight and a hockey game broke out" came back to him, when two players dropped the gloves and went full contact boxing at center ice. He looked up at the scoreboard, and exactly two seconds had ticked off the clock when the fight began!
He reported that it was a very good, very fast-paced game, a game that saw Evansville take 34 shots to Huntsville's 24, and that help lead to a final score of Evansville – 3, Huntsville – 2.
Tom mentioned that going to a hockey game in Evansville is quite different than going to an Otter's game. For the baseball fan, one can watch an Otter's game for around five dollars. No such luck for the Thunderbolts. Tom stated that the cheapest tickets were fifteen dollars, and they were not good seats at all. His tickets came in at Twenty-three dollars, and he said there other seats as high as fifty-five dollars each.
The Rotarians spent a few minutes discussing plans for the Rotary team to compete in Friday's Farm Bureau Young Leaders trivia tournament. This tourney is all about food, and Rotary will have a top-notch team ready to compete. The game will be held on Friday, January 27th at Gottzz's, starting promptly at 7:00pm. The proceeds from this fun event will go to the sack lunch program here in White County.
Next up will be the "Super Chili for that Super Football Game". The Rotarians will be selling quarts of their world-famous chili on Friday, February 10th, so customers can have it ready to go for the big game. Pick up your chili at Haskell's Chiropractic on Oak Street here in Carmi. Quart jars go for twelve dollars and can be purchased in the parking lot of the office. Serving will start at 4:00 and continue until the last jar is sold.
Finally, the Rotary Spring Trivia is just around the corner, this year's event will be held on Saturday, March 11th at the American Legion on Oak Street. As in year's past, there will be four rounds of ten questions each, from such categories as: history, pop culture, food, the Bible, and many more. There will be cash prizes awarded to the top three finishers. The entry fee is $40 per four-person team and can be paid the night of the contest.
In other club business, Tom Logan won the 50/50 drawing but did not manage to capture the cash prize. Don Drone was named as the day's phantom.
The Carmi Rotary club meets every Thursday at noon at the First United Methodist Church on Main Street in Carmi. Anyone wishing to learn more about this civic organization is welcome to attend a meeting or speak with any Carmi Rotarian.