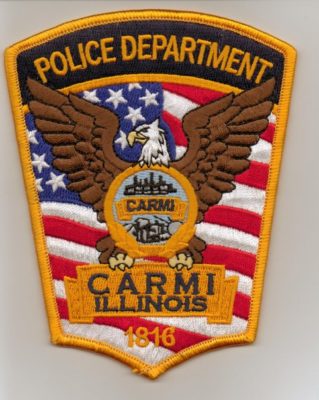 25 year old Katelyn Welch, of Carmi, was arrested by Carmi Police early Saturday morning on charges of Aggravated Domestic Battery and Criminal Damage to Property after she was involved in a Domestic Battery with 59 year old Jeffrey Sturgal and stabbed him in the arm with a screwdriver. Welch was taken to the White County Jail where she was released after bonding out to $3,000 cash plus a $20 booking fee paid out of community funds.
James Wiggins, of 202A Olive Street in Carmi, reported to Carmi Police Saturday afternoon, a theft of various Ryobi tools valued at $400 plus a black backpack and red bag. The theft occurred on Saturday between 11:00 AM and noon.
32 year old Christina Renee Karnes, of Aurora, and 38 year old Robert Clyde Raudenbush, of Galatia, were arrested by Carmi Police Sunday morning, following a traffic stop in the Dairy Queen parking lot. Police received a report of a reckless driver heading southbound from Crossville to Carmi. Upon approach, Officer Moore could smell raw cannabis coming from the passenger compartment. During a search of the vehicle, an amount of cannabis, scales, and paraphernalia, as well as a Schedule 4 Tramadol pill were found. As a result, the driver, Karnes, was cited for Improper Lane Usage and Operating an Uninsured Motor Vehicle and Possession of a Controlled Substance. Raudenbush had 2 active Hamilton County warrants that he was served with in addition to new charges of Possession of Cannabis in a Motor Vehicle and Possession of a Controlled Substance. They were both transported to the White County Jail.