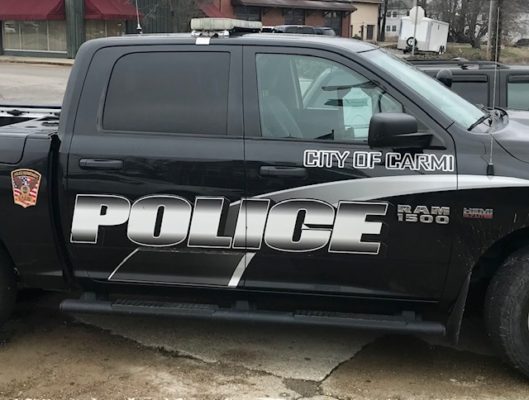 Carmi Police received a report Friday afternoon from Tammy J. Martinez of Marion, IL, who told Officers she had stayed at the Carmi Motel Thursday night and believes that sometime early Friday morning, someone entered her room and stole her clothes and around $50 cash.
Carmi Police were dispatched, Friday, around 2:00 p.m., to Jansen Ford in reference to a possible theft which had occurred regarding stolen license plates. Upon arrival Officers spoke with employee Courtney Newberry who stated she wasn't for sure how long the plates had been missing. After speaking with other employees it was determined that the two temporary plates had been missing since approximately December 2020. The plate numbers 386v755 and 386v756 were believed to have been taken from the finance office located in the building. The plates were entered into LEADS as stolen.
Friday night, Carmi Police received a report of a juvenile who was throwing cans in the air, hitting a vehicle outside of Tumble Time. The owner of the vehicle refused to sign a complaint but wanted the incident documented due to numerous juveniles inside Tumble Time with no adult supervision. The juvenile had fled the scene, but police found the juvenile later, as he was picked up due to being out past curfew. He was released to his guardian.
Don Ridenour, owner of Don's Bumper to Bumper, reported to Carmi Police Sunday afternoon, juveniles had broken the windshields of 3 vehicles on his lot. A couple of juvenile males, ages 12 and 14, were detained. Ridenour signed a complaint for Criminal Damage to Property but did not wish for the juveniles to be immediately arrested. A report has been forwarded to the States Attorney.
Carmi Police received a report Sunday evening, from Bobbie Hull of Carmi, a window on her house had been shot with a bb gun. It is unknown when the damage occurred.
26 year old Sally J. Spivey, of Olney, turned herself in to Carmi Police, Sunday night, on a White County Warrant for Retail Theft. Spivey also had a Richland County Warrant for Failure to Appear on Possession of Meth. She bonded out on $250 for the White County Warrant and $225 on the Richland County Warrant.