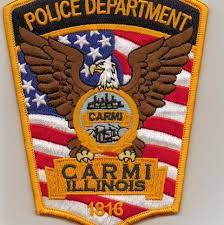 A Carmi woman is in custody following her arrest on a Johnson County Warrant. A little before noon on June 22nd Officers with the Carmi Police Department went to the White County Probation Office and arrested 50 year old Tracy Johnston of 8th Street for Failure to Appear for Possession of Methamphetamine. Friday morning, Johnston was transferred to Johnson County for the warrant. She is scheduled to appear for a sentencing hearing on September 12th at 9 a.m.
61 year old Gregory Dillinger of E Main Street is being held in the White County Jail pending the setting of bond after being arrested on Burglary and Theft Charges. Dillinger was taken into custody Saturday morning for Burglary to a Vehicle near Tumble Time in Carmi. Dillinger was also wanted on a White County Warrant for Disorderly Conduct. No court date has been set at this time.
And on Sunday 26 year old Alton Folz of Fackney Street in Carmi was arrested during a traffic stop for Driving While License Suspended. The traffic stop took place on Oak Street just a little before 9:30 p.m. Folz paid $250 bond plus a $20 booking fee and was released a few hours later.