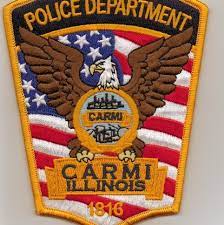 A Maunie man is behind bars after being charged with Domestic Battery.  Brenton Jones of Washington Street had a complaint signed against him on Sunday after the victim reportedly had extensive injuries to her head and body.  Jones was charged with Aggravated Domestic Battery, no bond has been set at this time.
An Animal Control Officer is licking her wounds after an altercation with a dog owner that led to an arrest.  On Wednesday at around 9am 53 year old Beverly Newman of Carmi was attempting to pick up her dog from Animal Control Officer Linda Aud.  The dog had been running at large and had been picked up by Aud.  After Newman was unable to provide proof of rabies shots, which is required by Illinois law, Newman reportedly attempted to forcibly take the dog back.  Newman was subsequently arrested.  She was charged with Aggravated Battery, no bail has been set.
An Elizabethtown man was arrested for Driving While License Suspended.  23 year old Adreyn Bridges was arrested at around 9pm on Wednesday.  He was charged with Driving While License Suspended and Possession of Cannabis in a Motor Vehicle.  Bond was set at $250 plus a $20 booking fee, Bridges paid bond and was released.