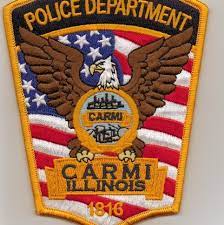 The Carmi Police Department had a rather busy holiday weekend. To kick things off, on Saturday morning at around 10:20 AM, 39 year old Tamara M Bingham was arrested on a White County Warrant for Disorderly Conduct for making a false police report. Bond for Bingham was set for $1500. She paid bond and was released. A court date for Bingham has been set for August 9th at 9 AM.
Also on Saturday at 10:30 PM, 61 year old Teddy Jay Dunlap was taken into custody following a 911 call to the 203 6th street apartments in regards to a fight in progress. Dunlap was arrested for aggravated battery with a knife, aggravated assault and unlawful use of weapons by a felon. He is also being charged with possession of meth, unlawful use property and possession of a controlled substance. Dunlap is being held on $5,000 bond.
Just a little over an hour later, a Carmi man was arrested for Criminal Damage to Property. 27 year old Jason S Sigmund of 203 6th Street was taken into custody on the charge. His bond was set at $100. Sigmund paid bond and was released.
Early Sunday morning, 39 year old Amber Nichole Newman of 407 4th Street was arrested following a traffic stop for Possession of Methamphetamine, Possession of Drug Paraphernalia, Unlawful Use of Property, Operating a vehicle with expired driver's license exceeding one year as well as unlawful use of weapons by a felon.  Newman appeared in court Wednesday where she received 2 years probation, 25 hours of public service work, 6 month stayed jail sentence and fines in the amount of $2,865.
And on Monday morning, July 4th, 35 year old Jennifer Parkhurst of 412 Oak Street was arrested for Violating an order of Protection. Parkhurst is being held without bond. A court date for Parkhurst has been set for September 1st at 9:30 AM.