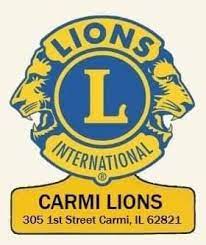 Leaders with the Carmi Lions Club are encouraging the community to cooperatively come together for city wide rummage sales on June 5th.  Lions Club representative Donnie Ridenour says the club is sponsoring the sale and will also hold a farmer's market on the first Saturday in June.  Maps of where to find the best deals will be available at the Lion's Den beginning at 6am.  If you'd like to participate and get your rummage sale on the map, Ridenour says to make sure you call fellow member David Templeton at 382 – 8082 by May 24th.  The farmer's market will be held on the Lion's Den parking lot from 8am – 2pm.  Booths are available for that as well for $20.  To sign up for the farmer's market, contact Cindy Deitz at 812-431-3026.
Of course, Lion's will be participating.  Ridenour says they'll be selling their nearly famous homemade cinnamon rolls for $10 a pan and also breakfast burritos for $2.50 each.  For lunch, they'll have porkburgers, hamburgers and hot dogs and there will be picnic tables set up.
The Lions Club is located at 305 First Street.