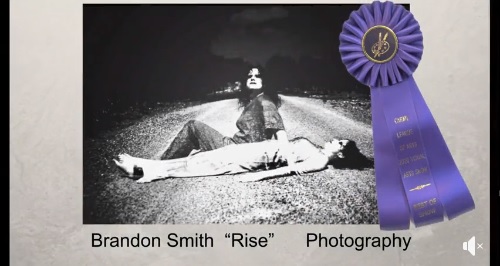 The Carmi League of Arts is proud to announce the winners of their Virtual Art Show held in April.  Many great submissions came in from our community and schools which made choosing the winners very difficult.  To see all the artwork submitted, visit the Carmi League of Arts Facebook page.
The overall Best of Show was awarded to Brandon Smith for his double-exposure photography entitled "Rise."  Other adult Best of Category winners include Macenzi Mitchell for Drawing, Brandi Burchfield for 3D art, Rhea Veatch for painting, and Katherine Sands for Mixed Media.  First place adult winners include Chaselyn Craig and Norah Morales, with Zandrea Hafenrichter taking home a second place ribbon.
The High School age division was won by Jasmine Smith and her mother duck and duckling.  Ribbons winners included Sydney Lucas, Allie Gee, and Frankie Hays.
Junior high ages winners include Best of Category Atleigh Groff and ribbon winners Braydon Smith, Alexa Ackerman, and Callie Acord.
The 4th-6th grade division was won by Aubrey Kessler with ribbons going to Johanna Zieren, Braelyn Russell, and Katelyn Davis.
Jefferson student Keira Prince won the 2nd-3rd grade division with ribbon winners being Trinity Carter, Jolene Rankin, Sydney Stallings, and Niah Haley.
Additionally, Carmi's own Miss Illinois County Fair Queen Kelsi Kessler selected four students for the Queen's Choice awards for the artists' hard work and determination to make some great art.  The Crowned with Confidence awards went to Elizabeth Gwaltney, Wyatt Thomason, Brianna Hale, and Evan Rush.
The Carmi League thanks those involved in making the League's first Virtual Art Show a success.