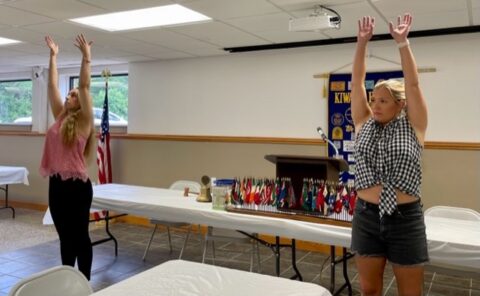 The trick is to keep breathing.  Inhale Exhale Yoga instructor Launora says folks may get into the exercise as a form of peaceful relaxation, it's meditative qualities, while others are looking to to add strength, balance, and flexibility.  For her, it all starts with breathing.
"In my experience with yoga, we have a tendency of forgetting to breathe.  And breath work is so important just in our daily lives.  You may notice throughout your day in conversation with someone that you're holding your breath, or if you're nervous you may be holding your breath.  So I try to incorporate that in every class to focus on evening out your breathing."
She says when she first started, she didn't realize how much yoga would benefit her life and not just on the yoga mat, but in her overall life.  It all started by taking a hard look at how she was getting through the day.
"When I first moved here (I feel like I owe everyone in Carmi and the White County area an apology) because when I got here I just felt dread.  I didn't want to live here.  No one was at fault; I just didn't like change.  But, with change comes growth.  Carmi and yoga helped me grow and the more I grew, the more I learned to love myself."
She says her yoga classes are like Vegas.  What happens there stays there and she describes it as paramount to create a safe space for people.  Whether you're coming in stressed or depressed, a yoga class can help reset and offers a release, according to Launora.  At the end of the day, it's about taking care of yourself and she encourages everyone to take time to be good to yourself.
"I would just hope that you take 5 minutes a day to yourself and just speak kindly to yourself.  Share some of the compassion you give to others with yourself."
Learn more about Launora and Inhale Exhale Yoga by finding her on facebook.  She offers a daily class schedule at her yoga studio inside Carmi Presbyterian Church.  There will also be a Hot Yoga session at One Step Up Dance Studio on Friday, June 9th and an early rise Burrells Woods yoga session from 6:15am – 7:15am on Tuesday, June 6th.  Meditation sessions are just $8.  30 minute yoga sessions are $10 and 45 minute yoga sessions are $12.