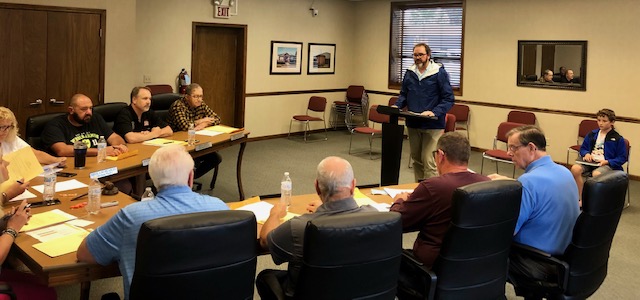 Organizers are moving forward with plans for a second Farm to Table event which will precede Corn Days in early October.  Patrick Scates, lead coordinator for the event asked Carmi Council for permission to close off south Main Cross on October 7th for the event Tuesday night.  He says they're hoping for an event just as successful as the maiden venture.
Additionally Tuesday night, Council passed a formal resolution to re-route traffic for the 2021 Corn Days celebration.  Traffic will be shut down on Main Street from Oak to Main Cross with a detour from around 3pm on Friday, October 8th through Saturday, October 9th at 11:59pm.
The event, while enjoyable for Carmi citizens along with many former residents and area attendees is a tall task for law enforcement.  Police Chief Jason Carter invited the Council to a come and go farewell for Sergeant Brad Spence on Friday, June 11th from noon – 3pm at Council Chambers.  Recruiting law enforcement officers has been a tough row to hoe.  Carter says he's bringing another officer on board July 12th, that officer was to replace the upcoming retirement of Officer Donna Huber.
Staffing will be tight for at the least a few months while Long goes through police academy training.  The chief has a plan.
Mayor Jeff Pollard says Spence will still be a city employee and may still be called on to put on the uniform.
Council also approved ordinances regarding tap fees, borrowing money for the Hillsdale water project, and also an EPA mandated update for a minimum of 40 feet of water access for new services.  Council approved the $24,000 expenditure for testing at the light plant.  The mayor says it must be done to remain in compliance.  Carmi City Council adjourned at 5:55pm and will reconvene on June 15th at 5:30pm.