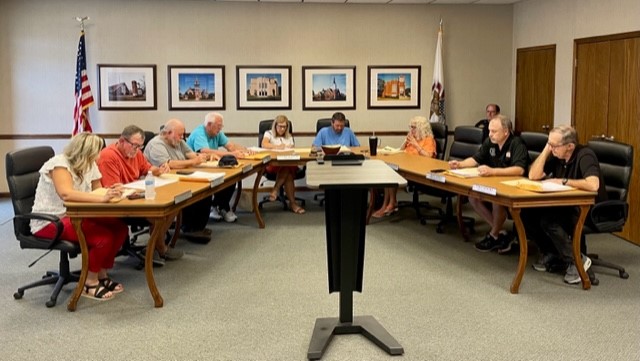 HD Bean Jewelers has the go ahead on a TIF Façade Improvement through the Carmi City Council after Tuesday night's meeting.  Cody Gottman, owner of the store, says to expect a lot of commotion in front of the store in the next couple weeks as they begin a major facelift to the front.  He says they'll also be replacing the roof.  The store will be closed August 16th through the 20th and normal business hours will resume on Monday, August 21st.
Carmi City Council also amended a zoning ordinance in anticipation of Nikki Edwards moving NFE Realty from it's current location on Cherry to 602 West Main Street.  Edwards says she hopes to be in the home turned office before Corn Day.
In addition to pay requests for Brown and Roberts Engineering and to Sierra Bravo Contractors totaling more than $244,000, council also unanimously approved an expenditure of $58,550 for an Evapar Generac 150 kilowatt Diesel Generator and 600 amp ATS following some discussion.  The recent storm fast tracked getting that item put on the agenda.  Alderman Doug Hays says the storm "was a wake up call that we were underprepared in that aspect." The generator purchase wasn't included in the budget for the year; Mayor Pollard anticipates paying for it out of light and water reserves.  City electric engineer David Coston says the generator being purchased is 10x larger than a normal house generator.  Sheila Headlee says she received several calls in the hours after the outage from constituents on oxygen that were concerned.  Mayor Pollard says he hopes to eventually address that.
"If we got it going and we were down for a long period of time and we needed to have the room…once I get the basement cleaned up downstairs underneath us where the old council room used to be; once I can get it up and going, in the beginning, years ago this used to be a fall out shelter in the first place.  So, I've always had the game plan of trying to get back to that at some point in time.  We'd have to make it a temporary setup if somebody was out and was going to be out for an extended amount of time, we'd be able to come up here and let them in.  It would have to be medical issue people priority."
Council also replaced ordinances 1584 and 1602 to match the state Illinois Municipal Utilities Association regarding the Net Metering Policy.
Council went into closed session at 5:51pm.  No action was expected to follow.