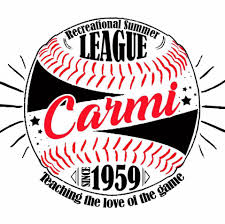 In the most anticipated move at Tuesday night's Carmi Council meeting, the board agreed to allow the Carm Rec Summer League to open practices.  Mayor Pollard briefed the council on the situation before turning it over to the council saying, "First of all, I'm gonna say I'm kinda disappointed in some people because basically this is only on the agenda for the fact the summer rec league was advised by their attorney to get permission from the City of Carmi and from Egyptian Health to allow them to not play ball, but to practice.  There are some state guidelines that I have sent out to all of the alderman and now for some reason, this has gotten blown up on facebook.  Basically, summer rec league's insurance will pay for anything that goes on with coronavirus, along with the fact Cynthia has already checked into ours to make sure it's all covered and it's covered.  So, I don't know why everybody has to get so bent out of shape when they don't really know what's going on."
Aldmerman (and Carmi Recreational Summer League Board president) Jeremy Courson added, "We've spoke with Egyptian Health in Eldorado and he advised with being in Phase 3 to practice until we can hit Phase 4 and that's what we'd like to ask permission for is so we can start practicing until we hit Phase 4 and then begin playing."
The Carmi Summer Rec League is inviting coaches to come to Bradshaw Park's First Bank Pavilion this (Wednesday, June 3rd) evening at 6pm for a meeting.
Also at Tuesday night's meeting, council passed ordinance #1565 to vacate a part of roadway in the Carmi Industrial Park.  Southeastern Illinois College is attempting to gain a Fast Track Rebuild Illinois grant, the same type of grant that will help the City of Carmi with it's water project in the Hillsdale area, and therefore needed the ordinance passed to help qualify for the grant.  Karen Weiss, Dean for Career and Technical Education at SIC, says, "Yes we are wanting to build a building.  If we don't get the grant, I will go on record to say that we are still committed to building something there, a vocational building, because we know there's a great need there.  We've heard it expressed there many times.  We've met with business and industry there, so we'd like to put something there to provide some workforce training."
Council approved resolutions early in the meeting committing local funds to their own Fast Track Rebuild Illinois grant and the Competitive PI component.  Additionally, council approved pay requests, one for Samron Midwest Contracting for the Industrial Drive project in the amount of more than $148,439 and the other to Brown and Robers Engineering in the amount of $18,732.  Both of those pay requests, Mayor Pollard says will be reimbursed to the city.
In reports from Mayor Pollard, he applauded Niki Lamont for her efforts in painting city boxes on Main Street.  You can see what appear to be a stack of books in front of the city library, and Pollard says she'll be doing different things on the rest of them throughout the city.  The mayor also reported the dog park is getting closer to being done, saying the shelter is complete.  Up next is the fence and the dog exercise equipment which has been delivered.  Pollard also says the electronic recycling event was a great success and the city is looking to host another in September.  Once again,  Pollard says citizens are leaving the yard waste site gate open and dumping yard waste anywhere they want.  He says if this practice continues, they'll only open the site on Saturdays.  To help downtown businesses with social distancing, Pollard says the city has ordered 10 more benches for the downtown area.  Lastly, the mayor says they're on the final stages of a new City of Carmi app.
The meeting lasted just under 20 minutes.  Council will reconvene for regular session on June 16th.