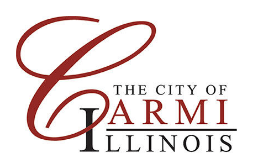 The Carmi City council met for the second of their two monthly meetings on Tuesday evening. Prior to the regular meeting, a public hearing was held regarding zoning of 201 Stewart Street and for a mobile home permit at 803 7th Street.
In regular session the council approved the mobile home permit for 803 7th Street as well as the Zoning Ordinance for 201 Stewart Street. Doug Hayes presented the board with a bid to purchase a new 2023 Dodge Ram 1500 Classic truck for the Carmi Police Department from Jansen Ford utilizing the state bid specifications in the amount of $38,609. Hayes told the council that this will replace the 2016 Dodge Ram that is currently being used. Once the new truck comes in the 2016 Ram will remain in the City for use. The council approved the bid. A resolution to Execute Agreement with Brown & Roberts Inc to paint a 500,000 gallon water tank West of town was approved. Also approved was a pay request with Brown and Roberts in the amount of $15,000 for the IEPA fully grant funded study for possible sewer in Edgewood. The final item on the agenda was to approve a loan renewal for Symetra Stop Loss Insurance for February 1, 2023 to January 31, 2024. Following a presentation by a representative from Symetra the board approved the loan.
There were no reports from Mayor Pollard or standing committees and no business or comments from visitors.
The council held an executive session with no action to follow.
The Carmi City Council meets on the First and Third Tuesdays of each month.