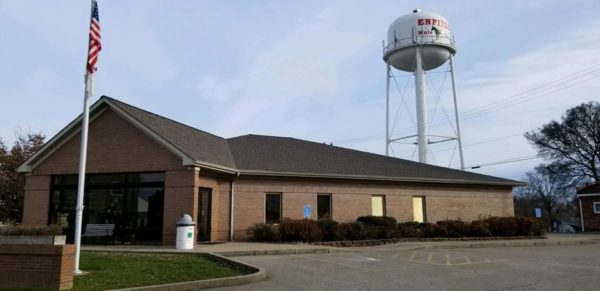 The Enfield Village Board held their monthly meeting (last) Tuesday night.
The main topic of discussion was the purchase of a service truck for the utilities department.  The board members spent about 45 minutes in a back-and-forth with the utilities department personnel on whether to get a new or used vehicle, whether to get a diesel truck or not or a one-half ton or three-quarter ton truck.  The utilities department had different ideas from various board members about what is needed in a service truck.  After much discussion, the board voted three to two to purchase a Ram 350 Tradesman from Lemonds Chrysler Center in Fairfield for $47,201.  And they decided to go to Meyer Truck Equipment in Evansville to try to fit it with a utility bed and plow attachment.
They received three bids on the old red Dodge service truck, but hadn't published for bids.  It was decided that they would do that and then by the August board meeting open all the bids.
The water project, which consists of replacing the water main from the cemetery to the downtown intersection and installing computerized water meters, is still a ways from starting.
A letter was sent to Wesley Carter about cleaning up his property.  The village had considered doing the cleanup themselves and then put a lien on his property, but since Enfield wouldn't be able to purchase the property and then sell it down the line, the board members decided to not spend any tax dollars for cleanup work.
Liberty Water and Gas of Kentucky inquired about acquiring the Enfield gas system.  Since the village gets revenue from the gas utility, the board members said they weren't interested in talking to them.
A donation of $250 to the Enfield Fire Protection District was approved for their Coal Bell meeting.
Also, Police Chief Mark Worlds thanked the Illinois State Police for their help during the Fourth of July celebration.
The board adjourned at 8:27 PM.