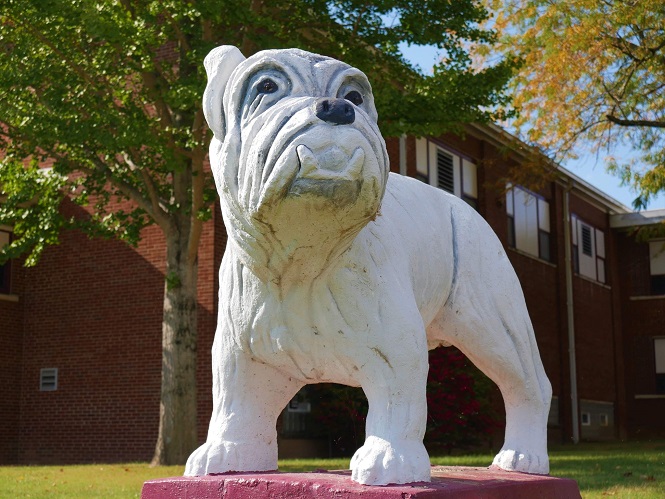 The Carmi-White County Unit 5 School Board met (last) Monday night at the Junior/Senior High School Cafeteria.  Scott Mareing was there and has this report:
A 15 minute public hearing was held prior to the meeting to discuss a resolution approving an application for a waiver of mandate regarding tuition for non-resident full-time employees.
At the start of the regular meeting, board President "Pete" Fulkerson announced that since Center for Disease Control guidelines state those two years old and older should wear a mask indoors at all times, masks are recommended in the district's board meetings but are not required.
Then, Sheila Westfall recited the Official Oath as a newly appointed board member.  She was appointed at last month's board meeting to fill the vacated board member position until the next school board election in April of 2023.
A resolution was approved which would allow a waiver request to be filed with the Illinois State Board of Education that if approved would allow non-resident full-time employees of Carmi-White County District 5 to enroll their children in school without paying tuition.  It should be renewed every two years.
The board also approved a resolution to affirm local board control of COVID-19 mitigation measures for the 2021-22 school year.  It allows the board to adopt the ISBE, IDPH and CDC guidance and authorizes the administration to develop and implement COVID-19 mitigation measures.  Questionaires were given to teachers and employees asking if they approved of local board control and well over 90% agreed.  The district will post a Return to School Plan prior to the start of school.
Tom Crabtree, a director with Stifel, Nicholaus, and Company Inc. addressed the board about the nearly $6 million in outstanding bonds that were issued by the school district in 2011.  The bonds are currently scheduled to be paid off on December 1, 2030.  For about half an hour, Crabtree presented different options but no action was taken.
Sherri Stokes-Cross was appointed as IMRF authorized agent to succeed District Office Administrative Secretary V. Joy McCully, due to her employment as district bookkeeper with duties that now include payroll.  This appointment will be effective July 20th.
The total revenue for the last month was $1,305,867, including $50,664 from the 1% sales tax.
In the Superintendent's Report, Brad Lee said online registration for students will be from August 2-5.  For parents/guardians who are unable to conduct the district-wide online registration, in-person registration will be held on Thursday August 5th from 10AM
To 2 PM.  August 12th and 13th will be teacher institutes and work days for staff.  There will be a 50 minute early dismissal for students the first week of school.  Also, all student fees have been waived for this school year.
The custodial staff have been preparing the buildings for the start of the school year by having them cleaned and disinfected.  They also have ordered extra supplies so they can continue to increase their daily cleaning and disinfecting.
Due to the extensive rain the weekend of June 10-11 there were a number of roof leaks that were repaired.  Also the cafeteria air conditioning unit stopped working last week.  It may need to be replaced and hopefully the project can be completed by the beginning of school.
And they are working on the preliminary budget for the 2020-21 school year and will have it ready for the August board meeting.
In other business, seven board policies that were under five-year review were approved with no changes, changes to 12 board policies were preliminarily adopted with final action set for the regular August board meeting, and five resignations were approved.  Amanda Thompson as first grade teacher at Lincoln School effective at the end of the 2020-21 school year, Susan Healy as a Special Education Individual Aide at Brownsville School effective July 23rd, and Matthew Sneed as a Freshman/Sophomore Football Coach, Will Knight as the Junior High School Assistant Boys' Baseball Coach and Valerie Johnson as the Crossville Crossing Guard, all effective immediately.
The board went into closed session at 8:08 PM to discuss personnel.