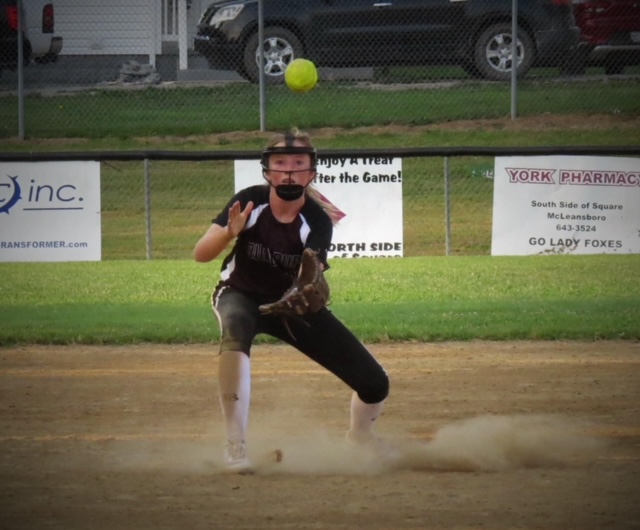 Coach Cindy Colman's Lady Bullpups have run their record to 7-1 after short-gaming Fairfield Monday afternoon.  The contest was tied up at Bradshaw Park after 3 innings, knotted at 4 runs apiece before Carmi unloaded for 7 runs in the home half of the 4th and another 3 in the 5th to run away with a 14-4 victory.  Lindsay Simmons allowed only 2 hits over 4 innings of work and a single unearned run while striking out 11.  Aly Albright began the game getting through a single inning allowing 2 hits and 3 earned runs after walking 2.  From the dish, Mia Evans went 3 for 4 driving in one; Lindsay Simmons helped herself out at the plate by going 3 for 3 with 2 RBI's and scoring a run of her own.  Malyiah Mayo scored 3 runs for the Lady Bullpups.  Maggi Pierce and Addi Elliott each added 2 hits apiece as well.  Pearce was the RBI leader on the day driving in 3 runs.  The Lady Bullpups were efficient at the plate only striking out 4 times while gathering 4 walks and poking 15 hits.  Fairfield was limited to just 4 hits on the day and the Lady Mules shot themselves in the foot with 5 defensive miscues.
The Jr. High Bulldogs also collected a win Monday afternoon taking a 5-3 win from Fairfield.  The win moves Coach Will Knight's Bullpups to 4-0 on the season.  Colton Marvin went 2 for 4 on the day driving in what turned out to be the game winning run.  Merick Millhorn also went 2 for 4 from the plate adding an RBI and scoring a run.  Hayden Sauls picked up an RBI and Preston Shelton went 1 for 2 while drawing a walk and scoring a run.  Maxon O'Daniel started the contest for CWC going 3 innings allowing 4 hits and 3 walks while striking out 3 and giving up a run.  Merick Millhorn pitched the final 4 innings and picked up the win allowing 2 runs on 4 hits.  Millhorn walked only 1 and struck out 6 Mules.
In the bottom of the 6th, following a walk to Travis Nausley, Jace Courson reached on an error advancing Nausley to Third base and Courson to 2nd.  Nausley ended up getting picked off third by the catcher, the 2nd out of the inning.  Myles Burnett drew a walk and Jaxon Bradshaw came on to pinch run.  That brought Colton Marvin to the plate.  He singled to center driving in Courson and allowing Bradshaw to advance to third.  Merick Milhorn then singled to left scoring Bradshaw.
Following a walk to lead off the top of the 7th, Catcher Maxon O'Daniel gunned down the runner attempting to steal.  Merick Milhorn then struck out a batter before getting a grounder to third baseman Travis Nausley for the final out.
The Jr. Bulldogs will head to Eldorado on Thursday.