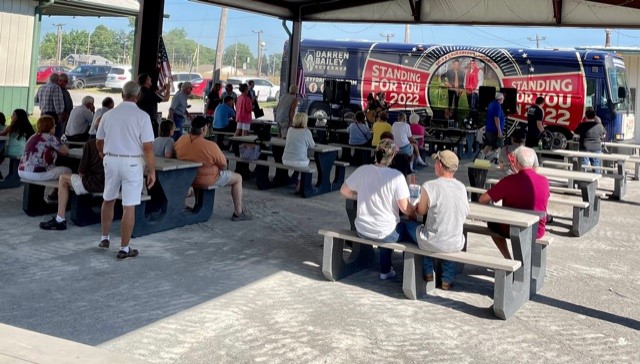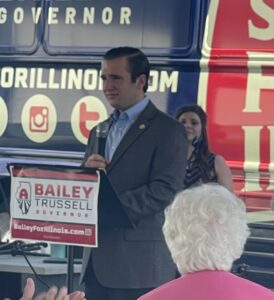 After trips to Carmi, Mt. Carmel, McLeansboro and more yesterday (Thursday), the Darren Bailey for Governor team remains in the region on the candidate's 102 counties in 14 days tour.  While Bailey himself remained in the Chicago area to prepare for a final debate, running mate Stephanie Trussell is speaking to crowds to help shore up support ahead of Tuesday's primary.
In Carmi Thursday, Trussell was introduced by Valinda Rowe on behalf of the White County Republicans.  She says while Bailey's candidacy seemed like a long shot initially, he's got a friend in the business of miracles.
Before Trussell spoke, Brett Corrigan who backs Bailey and has been on the campaign trail with the Senator riled up the crowd with a prediction.
Former President Donald Trump is in Illinois today (Friday) presumably to endorse Congresswoman Mary Miller and there have been hints that he'll also formally get behind Bailey.  Corrigan believes when Bailey becomes Governor, things will improve and invoked the former chief's words.
Trussell has a message for the other Republican primary candidates.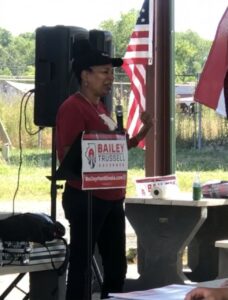 The Bailey bus continues it's trek Friday with stops in Saline, Hardin, Pope, and Gallatin Counties before heading back north on Monday.  Voting begins Tuesday morning at 6am.