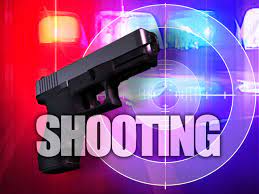 The White County Sheriff's Office is releasing additional details from the early Sunday morning shooting at Road Ranger outside Grayville.  According to a press release from Sheriff Weiss, officials were dispatched to the convenience store at about 3am.  While the deputy on duty and a Grayville officer were at the police department in Grayville tending to another call, both units responded and were on scene within minutes.  They were then notified by a witness the shooter had fled in a silver SUV.  Officers including an Edwards County Sheriff's Deputy who had also responded then rendered assistance to the gunshot victim who was still conscious and breathing.  The victim was then flown to Deaconess Midtown Hospital for further medical care.
Sheriff Weiss himself then arrived on scene along with Grayville Police Chief Hatcher and notified Illinois State Police with a vehicle and suspect description.  The release says a payment card was dropped by the suspect during the attempted robbery identifying the suspect as Kimberly Clerk from St. Louis, Missouri.
State Police were able to locate the suspect's disabled vehicle near mile marker 84 of I-64 and positively identify the woman inside as Clerk.  She was subsequently arrested and is facing charges of Aggravated Battery/Discharge of a Firearm, Unlawful Use of a Weapon, Armed Robbery/Discharge of a Firearm (a Class X Felony), Cause of a Child to Be Endagered and Felony Possession/Use of a Firearm with prior.  Clerk was then taken to the Jefferson County Jail and is currently awaiting extradition to White County.  Three juveniles were also located in the vehicle at the time of arrest and have since been placed in the care of Department of Child and Family Services.
The victim, identified by family on social media as Shannon (Gill) Jordan is currently in stable condition at the hospital.
Weiss thanks the Grayville Police, Illinois State Police Zone 8 Investigations, ISP Troop 9 Patrol, ISP Crime Scene, White County Emergency Medical, and Edwards County Sheriff's personnel for their assistance in apprehending the suspect.  Weiss also gives thanks to the patrons of the Road Ranger for their assistance in providing medical attention to the gunshot victim until personnel arrived.