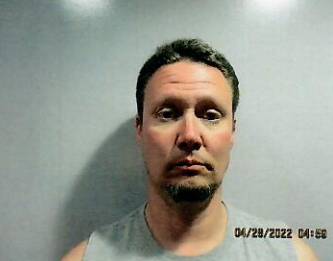 While on routine patrol in Enfield, Deputy Jordan Weiss was Eastbound on Main Street when he noticed a male driver and female passenger on a black motorcycle driving through the intersection of Main Street and US Highway 45. Weiss proceeded in the same direction and noticed the motorcycle had a temporary license plate. Weiss advised Norris City Police Chief Dustin Dale of the couple traveling towards Norris City. Chief Dale headed North on 45 to help make a positive ID of the driver. At US 45 and  County Road 1000, Dale advised Weiss that he had made a positive identification and that the individual was 42 year old Justin Wayne Simpson of 307 E Main Street in NC. A traffic stop was then initiated by Weiss who called into to dispatch to run a check of valid driver's license for Simpson. The female passenger, Olivia Miller and Simpson both stepped off of the motorcycle. Simpson was advised that there a warrant for his arrest and he told Weiss he was aware of the warrant. Dispatch reported back that Simpson's license had been revoked. Weiss performed a search on Simpson and found no weapons or illegal items, then placed him under arrest.
Chief Dale then transported Simpson to the White County Jail for the active warrant and Driving While License Suspended.  Don's Bumper to Bumper was called to tow the motorcycle from the scene.
Charges on the warrant were for Burglary and Theft. He was also cited for Driving While License Suspended or Revoked. Simpson is scheduled to be in court on May 23rd.