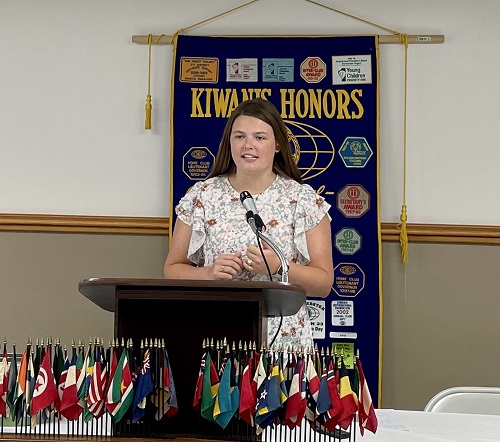 To keep a community's business ecosystem alive and thriving, networking and support amongst members is fundamental.  Emmy (Pruitt) Williams understands this and has been instrumental in revitalizing the Norris City Chamber of Commerce.  Though she lives and works primarily in Carmi now as the Banterra Bank branch manager, Williams grew up in the NCOE school district and also owns and operates WP Meat Company (the former Enfield Packing Plant).  She says in 2017 the former Norris City Chamber dissolved and in 2021, she identified the pieces coming together and decided to create the spark.
"In 2021, I started to see that there were so many new businesses coming to Norris City and yet there was nothing to keep us together.  There's no Kiwanis Club that eats lunch together once a week where we could all visit and learn things about each other.  The Lions Club I think in 2021 dissolved as well.  So I was like, we should create a Chamber."
Justin Johnson, a friend from Norris City in the legal field, helped Williams with drafting incorporation paperwork and by the summer of 2022, she and a small group of like-minded individuals were reaching out to potential members.  Williams knew she would have to look beyond the brick and mortar Main Street businesses.
"When you think of Norris City and you look downtown, there may only be 15 – 20 businesses there, but then we started thinking about farmers in the community that are interested in what's going on around town and maybe they would be interested in being involved.  Beyond that, we have a ton of people in town who run businesses out of their homes.  Maybe they're making candles or crafting, some are in the service industry like accounting and insurance and we ended up coming up with more than 100 names."
Some of the events the young organization has been putting on include their first Chamber Dinner (the 2023 dinner is being planned for November 14th), Christmas in the Village (planned for December 7th this year), Boo Bash, Farmer's Market (Thursday afternoon/evenings 4:30pm – 6pm), Trade Show, Valentine's Dinner, Ham & Bean Day, and a Poker Run.
The Norris City Chamber is comprised of 9 board members.  Among them:  Lei Ann Westfall, Brittany O'Daniel, Lena Hicks, Whitney Hobbs, Jane Lamp, Ashley Garlick, Rhonda Forston, Amanda Courson, and Williams.  There are currently 76 active members.
It will come as no shock that Williams was part of the inaugural White County CEO class and she credits her time in the program to facilitating her mindset in launching the Chamber.
"CEO definitely put the entrepreneurial mindset into my brain to think about helping those that are local businesses.  You know it's much easier to think to yourself you're going to go buy a specific white shirt at the mall but you can just as easily hop in the 8 different boutiques between Carmi and Norris City and find one as well.  But people don't by default just think that.  So CEO helped open my eyes to that and the thinking that we should shop our local businesses first and now that I own my own business, I see how beneficial that is firsthand."
Find out more and stay up to date with the Norris City Chamber by finding their page on facebook.  The Norris City Chamber is also featured, along with their member of the month, typically on the first Wednesday of each month on Open Line on air at 93.3 FM and AM 1460 as well as on demand through the local news section of https://www.wrul.com.