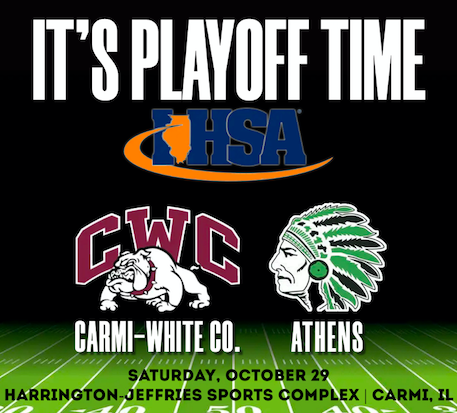 This Saturday, the 7-2 Carmi-White County Bulldogs will host the 7-2 Athens (pronounced AYE-thens) Warriors in the first round of the IHSA 2A Football Playoffs. 
The Warriors are members of the Sangamo Conference where they finished in 3rd place this season with a 7-2 record, behind 9-0 Maroa-Forsyth (#2 in 2A) and 8-1 Williamsville (#7 in 3A). The Sangamo is known as one of the toughest conferences in Illinois, with many of its members experiencing lots of postseason success over the past decade. 
Athens ended the regular season as the #5 team in 1A, but we're elevated to 2A for the postseason.
Athens' only two losses this season both came at home, losing in week 5 to Williamsville 41-12 and in week 9 to Maroa-Forsyth 38-36. 
Athens is located about 25 minutes north of Springfield and a little over 3 1/2 hours north of Carmi.
This is not the first time that the Warriors have faced a Black Diamond Conference team in the postseason. Last season, the Warriors defeated Sesser-Valier in the second round of the 1A playoffs, 57-28. In 2015, the Warriors went to Eldorado and defeated the undefeated Eagles in the first round of the 2A playoffs, 21-14, and they did it again in 2018, defeating Eldorado on the road 35-8. 
Ryan Knox is their head coach, he surpassed 100 career coaching wins earlier this season. 
Check out the "Gridiron Preview" later this week to learn what we can expect in terms of X's and O's and personnel from the Warriors, and what the Bulldogs will have to do in order to win their first playoff game since 2013.