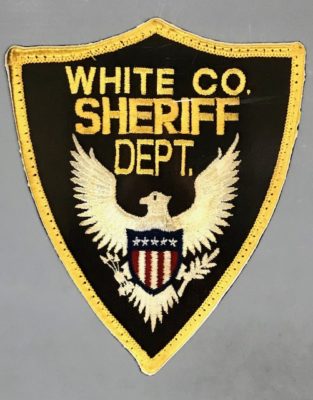 A 35 year old Enfield man, Jarrod M. Talley, was arrested by the White County Sheriff's Department Wednesday evening after White County Dispatch received a phone call from the Illinois Department of Corrections regarding a parole warrant that had been issued for Talley. While en route to Enfield, a Sheriff's Deputy noticed Talley standing in front of Doug's Food Mart in Norris City and approached him inside. He was advised of the warrant and taken to the White County Jail.
The White County Sheriff's Department responded to a report of a burglary Wednesday at the Gary Williams residence. A Deputy spoke with Jerry Williams, a cousin of Gary Williams, who said Gary lives in Houston Texas and comes home to stay in the 2 story farmhouse for a few months out of the year. The burglary occurred sometime between June 30th and July 1st. The suspect gained entry to the residence by climbing a telephone tower onto a porch awning, then breaking out a bedroom window to enter the residence. The suspect rummaged through the residence as drawers were opened and items moved around. A garage door was also damaged. Fingerprints were taken. It is unknown at this time what items were taken from the residence.
Cary A. Cone of 218 E. Main Street in Enfield reported to the White County Sheriff's Department Friday morning, someone had entered her residence without permission. She stated when she arrived home at 11:00 pm on Thursday, she observed a number of unknown individuals standing outside her residence. Cone told a Deputy she parked across the street and did not exit her vehicle. She then drove away and did not return until approximately 11:00 am Friday. When she returned home she found a guitar pick made from a Bank of America bank card laying in the laundry room floor, presumably belonging to someone who entered her residence while she was gone. Cone believes someone may be stalking her and entering her home when she leaves for work. Similar occurrences have happened in the past, typically late at night. The information was filed with the White County Sheriff's Department and the Enfield Police Department.
The White County Sheriff's Department received a report Saturday morning from Jessica A. M. Flowers that drugs were found inside a residence at 602 Hickory Street in Enfield. Flowers stated she had been renting the residence and was cleaning up the property when she discovered a number of glass pipes believed to be involved with using illegal drugs. The broken glass pipes contained burnt residue inside them. 2 small plastic bags were also found, 1 pink and one clear. Both contained a white residue believed to be methamphetamine. Neighbors stated they have observed subjects at the residence in the late night and early morning house. Deputy Spencer took to glass pipes and plastic baggies to the Sheriff's Department where the baggies field tested positive for methamphetamine. All items were entered into evidence.