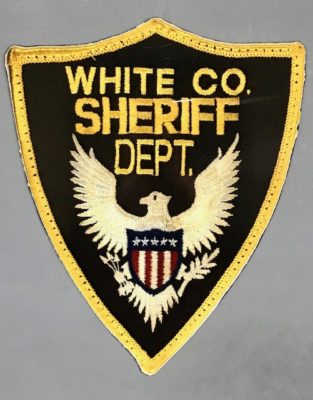 A lot of activity for the White County Sheriff's Department over the last few days.
On Tuesday, November 1st, at about 3 PM, Officer George Spencer spoke with Clarence Lucas of Carmi on the phone about someone on his Shawnee Oil Company lease, located on County Road 2400, northwest of Illinois Highway One.
Lucas said he saw a white male driving a white Honda 4-door vehicle with Florida registration, spoke with him, and asked him to leave.  Lucas said he spotted the male on another oil company lease about a month ago and made him leave at that time as well.  Lucas then talked to the person who owned the property the lease is located on and they said the male subject's name was "Bubby" Miller.  His real name was learned to be David Miller, 54, of Grayville.
Lucas said he would like to make a report about the matter and said he would like Miller contacted and advised to stay off of all Shawnee Oil Company leases.  Officer Spencer said an incident report would be completed and placed on file at the White County Sheriff's Department.  Spencer said he would pass this information to the other members of the sheriff's Department and the Grayville Police department.
On Thursday November 3rd, at about 10:30 AM, Deputy Michael Brown went to 509 4th Street in Crossville for a warrant check. He knew that 52 year old Karen Sexton-Ward was wanted on a Failure to Appear Warrant out of White County for Theft Under $300 with Dollar General. Brown also knew her bond was to be $500 with $75 Failure to Appear fee.  Brown knocked on the door and was told by a female in the apartment to come in. He then made contact with Ward and placed her under arrest. Ward was transported to the White County Jail where she posted $575 bond and was released.  No further details are available at this time.
On the morning of Thursday November 4th, Sgt. Craig Pool responded to the Roads Church at the intersection of U. S. Highway 45 and Illinois Route One in Norris City.  He spoke with Jerry Beck of Galatia, an employee of the church.
Beck said when he arrived at the church just after 7 AM he found a Bulldog Trash Truck on the parking lot.  He said the driver said it had broken down and his boss advised him to pull in at the location to switch to a new truck. Sgt. Poole saw that there were two trash trucks on the lot.  Beck said that when the truck pulled into the lot, it turned around and damaged the parking lot pavement.  Poole saw sunken down tire impressions the heavy truck made and was aware at the entrance to the lot is two signs forbidding heavy trucks onto the lot.
Poole talked to the driver of the truck, who told him his truck was having mechanical issues and he pulled into the lot to meet another truck like the company wanted him to do.  Sgt. Poole photographed the damage and said a report would be made to document the incident.  Jerry Beck said the church only wanted the damages paid for and was not interested in seeking any charges filed.
On Sunday at about 5:45 PM while on patrol, Deputy Brown observed a 2005 blue Jaguar traveling westbound on Stewart Street in Carmi with no registration lights. Brown initiated a traffic stop and when he approached the driver side door he smelled a strong odor of Cannabis coming from inside the vehicle. Brown then spoke with the driver 40 year old Steven Linder of Albion and asked him to step out of the vehicle, which he did. A Carmi Police Officer arrived on the scene to assist. Brown was seated on the sidewalk while two other passengers were asked to exit the vehicle. The CPD officer then showed Deputy Brown that there was a glass smoking device in the back floor board behind the driver's seat. Linder then gave the officers a baggy containing Cannabis, a red smoking pipe, and a container with a small amount of Cannabis inside. Linder was taken to the White County Jail for Possession of Cannabis in Motor Vehicle He paid $250 plus a $20 booking fee and was released.