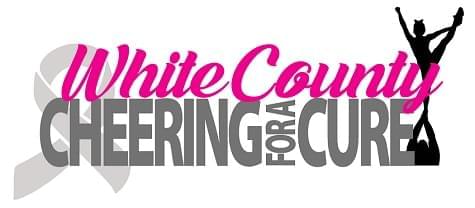 White County Cheering for A Cure is coming up this Saturday, February 1st, at the Carmi-White County High School McDougal Evers Gym. Doors will open at 7:15 am. Amy Rice and Lacey Moore were guest's on Thursday's Open Line program on WROY and Lacey tells us what folks can expect…
"We have 18 teams from around the tri-state area that are coming to compete on Saturday morning in different divisions. We have the All-Star Division which is comprised of just All-Star Gyms. Some teams bring one and some teams bring all the way up to six different teams. Then we have the Junior High Division and the High School Division, as well as Stunt Team. A Stunt Team is up to five cheerleaders on the mat and they compete for one minute just doing stunts."
Admission to Cheering  for A Cure is just $5 and children under 5 will be admitted free. In addition to the competition, they will have Taco Factory Tacos, Nachos, BBQ, and Hot Dog lunches, as well as "meal deals." There will also be silent auction items for folks to bid on, raffle items, and apparel for sale.
Proceeds from the competition will help 10 families battling cancer this year. Lacey and Amy explained the process for choosing the recipients and who they will be helping this year…
"One of the benefits of our cheerleading competition is that when we send out registration forms, we also send out an application if any of the teams have someone from their own community that they would like to submit their name and their story. They can send that back to us. One of the ladies that we've gotten from that is Sarah Apple, and she's from Boonville, She was one of our recipients last year. We also have Carmi native Ashley Putney Adams. She's battling breast cancer right now. She lives in Salem. Then we have from Carmi, Becky Wolfe and Patty Hodgson, Kinzey Woodrow of Norris City, and Carmi teacher Felicia Rumsey. We are planning on helping all of them this year."
Again, admission is just $5. Doors open at 7:15 am at the Carmi-White County High School Gymnasium. All proceeds benefit area families battling cancer.