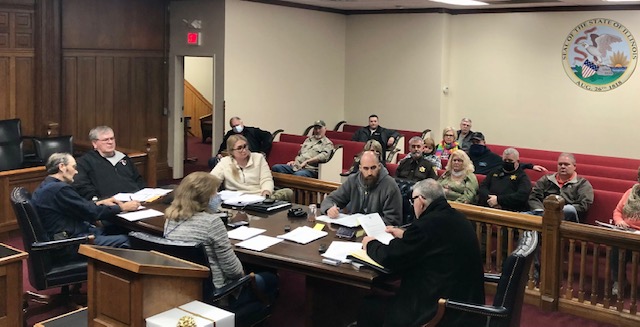 Story provided courtesy of TOC News by Jc Tinsley
White County taxpayers can expect a merciful end to their wait on tax bills next week, that's according to White County Board Chair Ron McAnulty who spoke on behalf of the absent County Treasurer, Pam Armstrong Tuesday night.
The board chair says around 6 million dollars worth of pre payments have been taken in.
The White County Board has also moved forward on hiring a new Animal Control Officer.  Steve Heil was formally hired at Tuesday night's meeting.  He replaces Charlie Mick who passed away in November.
The White County Board, as a formality, accepted the resignation of Sheriff Doug Maier.  He was given a gift and Sergeant Randy Graves was appointed to take Maier's place upon his retirement effective March 1st.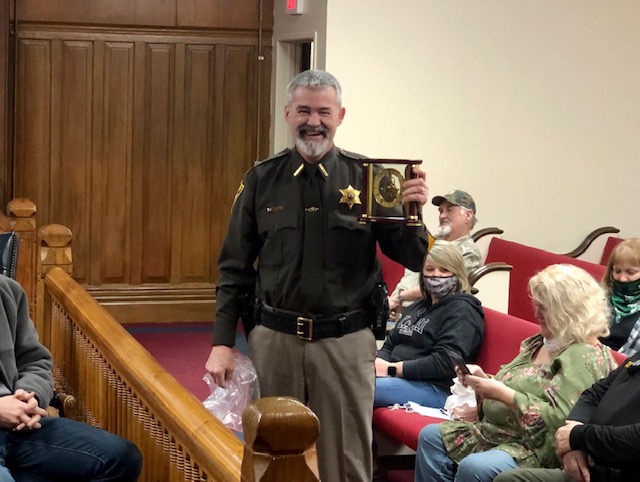 The board unanimously passed donations in the amount of $4,500 to the White County Senior Center and also $900 each to Grayville, Norris City and Enfield centers.
Highway engineer Brian Ray says it's been a rough few days for his department.  He expects a couple of insurance claims due to dump truck driver accidents that are blamed on the snow.  In addition, Ray opened multiple bids, the first for a project replacing a bridge section west of Plainview Church.  There were 4 bids and Ray recommended taking the low bid of $221,606 from Dee's Construction.  Furthermore, Ray opened a solitary fuel bid from Wabash Valley Service for for the Highway, Sheriff's, and Ambulance Departments.  The board went with firm pricing to avoid the risk that goes with lower open bids that could change throughout the year.  Currently, the county is paying:
Type                            2020                            2021                            price change
Gas                             2.164 per gallon          2.321 per gallon          Up .157 cents per gallon
On Road Diesel          2.348 per gallon          2.516 per gallon          Up .168 cents per gallon
Off Road Diesel          1.891 per gallon          2.059 per gallon          Up .168 cents per gallon
A lively dialogue preceded the board approving Supervisor of Assessments Terri Abell from joining the Solar Committee.
McAnulty would go on to say that he believed "she got bent when David [Dosher] named the members of the solar committee and didn't put her on it".  Board member Ken Usery motioned to place her on the committee; Cassie Pigg seconded and the rest of the board acquiesced.
The board accepted 3 resolutions moving parcels, one to Brandy Schneider from Jason Schneider, another to James L. Stinson, and the third to the Village of Maunie.
Without any public discussion, the county board agreed to accept a loan through Banterra Bank for ambulance purchases only saying that the bank "came in less than what the manufacturer gave us."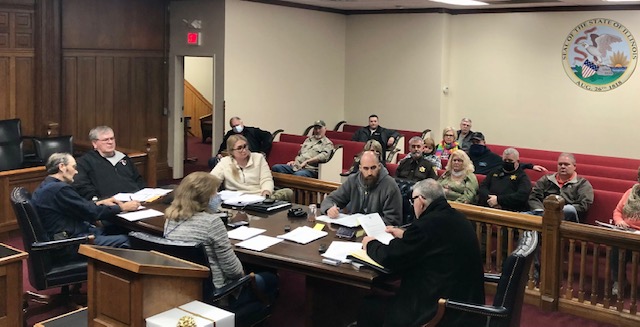 Finally, the board passed a resolution formally asking Governor Pritzker to veto House Bill 3653.  State's Attorney Denton Aud says that Circuit Clerk Kelly Fulkerson ran some numbers and anticipates the county will lose out on some $200,000 through the elimination of cash bail which the bill calls for.  Aud spent about 3 minutes describing all the negatives of the bill before agreeing that passing the resolution was simply a way to voice the county's opposition on record.
Board member Ken Usery said he was tempted to request an executive session, but instead says he'll save it for next month.  That meeting will be held on March 9th at 7pm from the upstairs courtroom at the White County Courthouse.