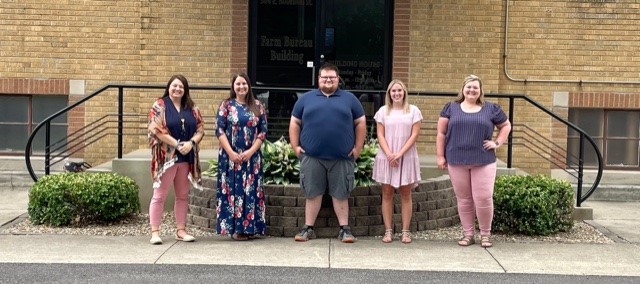 Carmi-White County Unit 5 School Superintendent Brad Lee describes the quarrelsome nature of things right now in the community.  Lee, along with building administrators Dr. Amy Dixon of Lincoln and Jefferson Attendance Centers, Amy Atteberry of Washington, Kathy Price representing Brownsville, Bart King from the Junior High School, and Jarrod Newell of CWCHS, visited with the Carmi Kiwanis Club Thursday at noon to talk about the upcoming school year and introduce new teachers to the district.  Among the new educators, Jennifer Barbre, Tessa Hargrave, and Carson Carter begin new roles for Dr. Dixon this year.  Kelsey Slay is new at Washington as a 4th Grade Special Education instructor, and Griffin Hart joins the team at Brownsville this year.  Lee says there are 115 certified personnel this school year to go along with 113 support staff.  Compared to 2016, the school district had 201 staff members.
Heading into this year, Lee says one of his proudest achievements throughout this pandemic situation was keeping school open all of last year.
Turning back to the prickly climate the school board, students, teachers, parents and the community at large are encountering to begin this school year, Lee says there are three main reasons the school board decided to adhere to the mask mandate.
Through just 3 and a half days of school, Lee says throughout the school district, there have been 14 students who have come down with lab confirmed positive CoViD diagnoses, 50 students who have been in quarantine, 4 staff members who have tested positive, and 7 staff members who have been quarantined.  Those numbers can be expected to continue to rise which will lead to further challenges in educating the students for faculty as well as for parents and guardians.
Lee also touched on the condition of the district's buildings saying they're not getting any younger and the problems are growing.  Talks had begun with the community to help determine whether the district would be better off to try to repair buildings or construct new ones.  He expects dialogue with the community to begin again later in the school year.
Lastly, Lee talked finances going over the district's 9 fund balances.  Unit 5 is in much better shape financially than it was in 2012.
Enrollment throughout Unit 5 for this year is at 1,365.  That's up slightly from last year.  Of those students, 400 are at the high school while Dr. Dixon says there are 200 students at Lincon and 180 youngsters in Jefferson Attendance Center this year.  Sixth day enrollment figures will be due out next week.