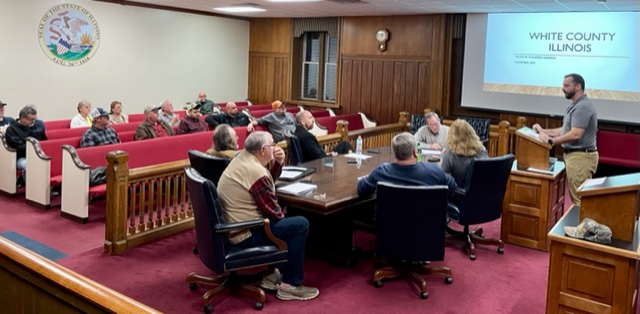 About two dozen concerned citizens showed up Monday evening for the Truth in Taxation hearing and spent about 35 minutes listening and offering their opinions to the White County Board.  Dustin Harmon of Bellwether Management Services & Consulting provided opening remarks and a brief presentation before being peppered with trepidations and anxieties surrounding not only the repercussions of new money coming in to the county, but also how the government actually planned to use that money.  Harmon says increases have been primarily driven by more than $22 million dollars in increased value of industrial and mineral assessments.
Harmon says due to those increases specifically in solar farm development and oil, it's possible that many White Countians will actually pay less property taxes next year.
The extension as Harmon says, is just a fancy word for the dollars that are collected from the property tax levy.  That balloon in income to the county even though Harmon says the individual property tax rate will actually lower for many in White County is ultimately what triggered the Truth in Taxation Hearing.
The county is planning to utilize those additional funds for the city/county jail and the sheriff's department.  Harmon wrapped by saying it's uncommon to have a truth in taxation hearing in which he's communicating a reduction in a tax rate.
From there, at least 7 members of the audience including Martin Rae Barbre, Mike Rowe, Greg Chapman, Kim Gwaltney, Bill Chapman, and Kenny Hargrave all asked questions or made comments ranging from trying to understand the process to concerns about future unknowns.  Dave Hunsinger…
The conversation also devolved into what the jail and sheriff's office needed the additional funds for, the ramifications of the SAFE-T Act, transparency, and frankly how government notices work prompting a stern response from County Board member Jakie Carter.
At 5:35pm, the hearing adjourned and the county board meeting got underway at 7 in which the board passed the discussed property tax levy.