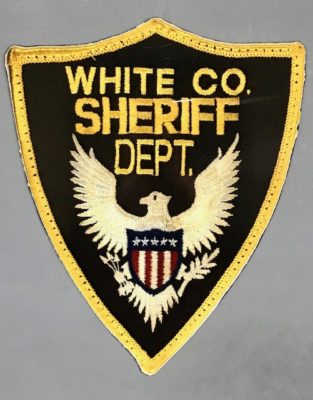 Multiple reports of theft and damage to property have been made to the White County Sheriff's Department
Monday, Deputy Wicker spoke with 68 year old Brian Mobley of Carmi in front of the Sheriff's office about some oilfield equipment that had been stolen.  He said he worked for Campbell Oil and was working on a rig near Mill Shoals around 10 AM, when he noticed that some pieces of equipment were missing from his drilling rig.  They were four rod elevators worth approximately $900 each, two tubing elevators valued at about $1,800 each, and one Giberson pipe slip worth about $3,800.  Bryan said he would be able to identify the pieces of equipment if he were to see them again.  Deputy Wicker said a report of a Theft Over $500 will be placed on file at the White County Sheriff's Department.
Also on Monday just before 10 AM, Deputy Michael Brown spoke by phone with Bryan Trantham, 54, of Omaha.  Trantham said his 2019 Chevrolet Duramax 3500 was parked behind his farm equipment which couldn't be seen from the roadway.  He said he found his passenger side window broken, and after going through the vehicle, he found his Topcon Laser missing.  No other details have been made available.
At about 4:30 PM Saturday, Deputy Brown spoke to Vicki Heid of Enfield about damage to a pole in her yard at 614 First Street.  The pole was placed there when she had the property surveyed.  Heid explained that she had been having some property disputes with a neighbor.  No other information is available.
Just before midnight Saturday, Deputy Brown talked to 45 year old Stephanie Graham at her residence at 230 Johnson Street.  Graham showed the Deputy her shed, where he noticed that the window was broken.  She said there was an item inside the shed that was broken, it belonged to her neighbor, and she wanted to file a report.  Then on Sunday at approximately 9 AM, Deputy Brown again went to speak with Graham, who reported that an unidentified person, a neighbor, damaged part of the fence she was putting around her property.  She said this person came on to her property and yelled at her.  Graham and the Deputy made contact with the neighbor in reference to the fence, who said they were fine with the fence going around the property and wanted no one else on her property except Graham and her husband.
And on Friday, October 21st, Deputy Brown went to 1803 County Road 400 East in Enfield to talk to Eric Shever, 25, of Carmi, who said that sometime Thursday night, his black 2012 Kia Optima had been damaged and $500 in cash had been taken from inside it.  The driver side mirror was damaged, the rear outside mirror had been taken out, the front driver side quarter panel had been kicked in, and someone unbolted the seats in his vehicle and left them on the ground.  Shever put the seats back in the vehicle the following morning.  The insurance company was notified and Shever did not sign a complaint.  Deputy Brown photographed the damage to the vehicle and then went back on patrol.  There is no other information at this time.