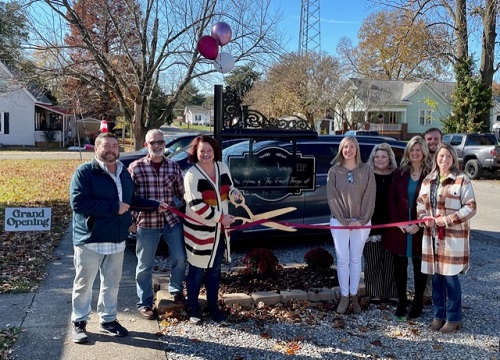 Owners of One Eleven Kerney LLC, Angie and John Healy, held their opening day on November 19th, 2021. Back in August, the Healy's had a conversation about their future and took a leap of faith to step away from their current jobs and chase their dreams. After several years of brainstorming different businesses Angie and John could see themselves starting, they landed on a store that offered their community a variety of home goods, especially those that are based out of Illinois. From wooden kitchen sets created in Chicago, furniture handcrafted by the Amish in Opdyke, and coffee roasted in Edwardsville, they have a little bit of everything, for everyone. 
One Eleven Kerney LLC is the newest business to be added to the White County Chamber of Commerce. Executive Director for the Chamber, Kelly Northcott, says that she is excited to see a new business added to the community, not only for area development and economic growth but to provide residents with an easy way to purchase home goods, without leaving the area. 
The store is now open to the community Tuesday through Friday, 10 to 5, and Saturday, 10 to 2. Angie and John Healy are excited to make lasting relationships through their own business after years of working for other companies and show you their array of rugs, pillows, dining accessories, lighting, silver, and even pet-friendly home goods.