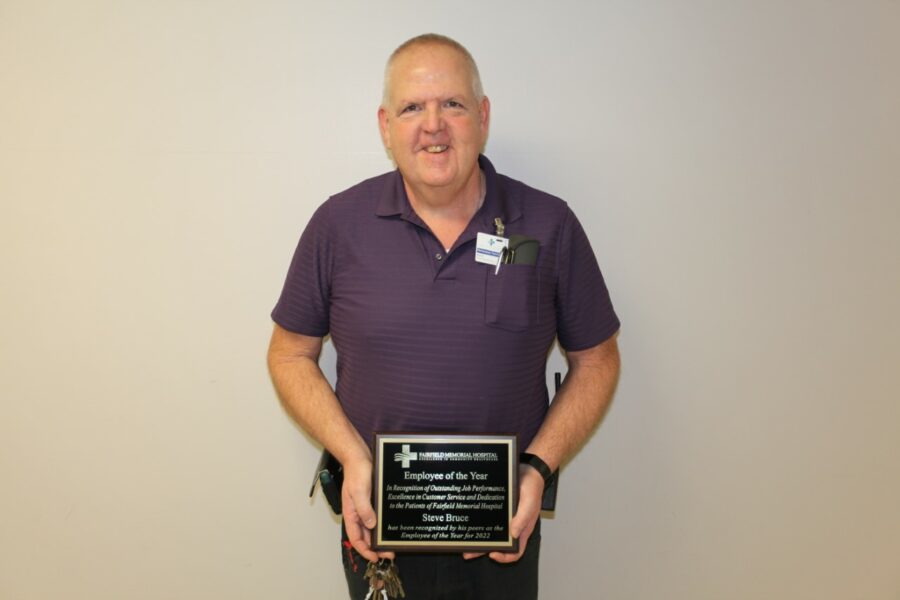 Fairfield Memorial Hospital proudly announces that Steve Bruce in the Plant Operations Department has been voted the 2022 Employee of the Year by his peers.
The 2022 FMH Employee of Month recipients were:
January – Yadira Lake, RPT (AMT), Laboratory
February – Deana Coomer, Medical Records
March – Kim Smith, Environmental Services
April – Madison Barnard, PBT (ASCP), Laboratory
May – Denise Spencer, RN, Surgical Services
June – Kelli Rush, RN, Emergency Department
July – Lindsay Kinsolving, RN, BSN, Horizon
August – Jessica Austin, R.T. (R)(CT), Diagnostic Imaging
September – Justin Titzer, Security
October – Darian Kincart, RN, Orthopedics
November – Angela Bruns, Urgent Care
December – Steve Bruce, Plant Operations
Each and every one of the recipients for this award were all nominated by their peers for their dedication to patient care, customer service, their hardworking ethic and the kindness they show the people surrounding them.
Steve Bruce, who works in Plant Operations, was named the December 2022 Employee of the Month and now receives the honor of Employee of the Year for 2022. Steve joined the team at FMH in July of 2021.
"Steve goes above and beyond when it comes to helping patients, staff and his co-workers. Steve is a very kind person, who treats everyone in the facility with respect and kindness. He is essential to our department and willing to go the extra mile to help in any way possible. He is always willing to learn a new task at a moment's notice. Steve is most deserving of this award." commented Jeff Wise, Director of Plant Operations.
"Steve has set an extraordinary example of what it means to deliver quality work with compassion, integrity, and respect. Steve has shown our organization to consistently be responsive, patient, and personable when working with his fellow co-workers or patients entering our facility. We are honored to announce Steve Bruce as Fairfield Memorial Hospital's 2022 Employee of the Year." stated FMH CEO Katherine Bunting-Williams.