The consortium of anti-maskers present at Tuesday night's Carmi-White County Unit 5 School Board meeting thought they got their way for a moment and broke out in applause.  Most ended up leaving unsatisfied though.  Following a solid two hours of pleading by community members including some educators, the Carmi-White County Unit 5 School Board opted to adopt an ever so slightly altered Return to School Plan.  About 40 folks came out in an attempt to sway the school board away from requiring in-person instruction and masking.  Just weeks ago, the school board had intended to go with a "masks optional" plan, but following Illinois Governor J.B.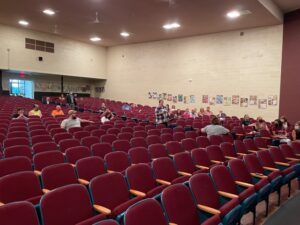 Pritzker's mandate on August 4th, officials were left with the unenviable choice of abiding by that mandate and the CDC, IDPH, and Egyptian Health Department's recommendation or thumbing their nose at it and leaving the choice to the students/educators.
A total of ten community members, including multiple educators spoke out either directly against the mask mandate or peppering the school board and the organization's legal counsel with questions aimed at trying to reason with them to drop the directive.
School Board Pete Fulkerson kicked the meeting off saying those wanting to speak would each be given five minutes and reiterating…
He was followed by comments from Angela Spence who was there to advocate for a remote learning option, Matt Garner who asked if parents could sign off on a non-negligence agreement, John Stockton, John Hubele, Kenny Hargrave, Rochelle Hubele, Dusty Aud, Pam Haywood, Cindy Coleman, and Kate Simmons also all delivered impassioned petitions.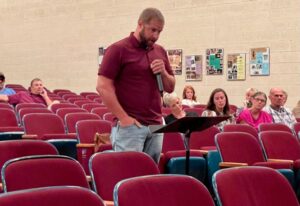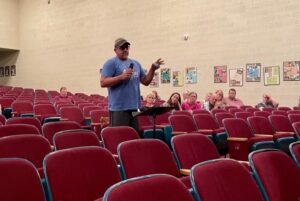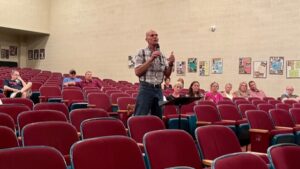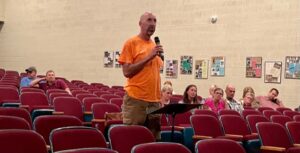 Legal counsel for the school board, Jim Funk of the Illinois Council of School Attorneys provides the school's leadership with legal advice.  Whether it's withholding of funds from the state or insurance liability, he provided a pretty simple to understand metaphor.
Hargrave, who has a kindergartner starting school this fall, likened the relationship between the school board and the Governor to a stay at home mom in an abusive relationship with her husband.
Similar to Hargrave, Kate Simmons who is both a parent of a student and also an educator and coach says it's time to stand up to Springfield.
Once remarks were over, Board member Tom Scates made a motion to enact the Back to School Plan as written, it failed for lack of a second which had the few dozen maskless faithful cheering.  After making a simple change in language to state that the board would review the plan on a monthly basis with intentions to undo the masking when safe to do so, along with language being drawn up to inform the state's leaders how many in the community feel, the board passed the plan on a motion by Mitchell, second by Scates and all aye's save for board member Kelly Ackerman, the lone board member who went maskless all evening.  Board member Brent Hammel was absent.