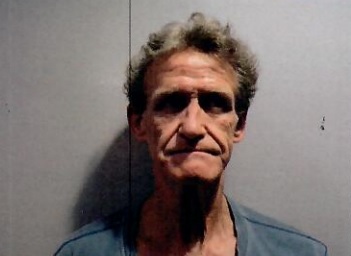 A slow speed pursuit Friday night resulted in the arrest of 60 year old Corwin W. Ward, whose address was listed as Evansville.
According to the sheriff's department report released by Sheriff Jordan Weiss, Corwin was spotted by Deputy Michael Brown around 8 Friday night on a 2006 Honda VTX motorcycle. The deputy knew Ward to be wanted on several outstanding warrants, including one from White County, one from Hamilton County and an additional warrant out of Jefferson County.
Deputy Brown attempted to stop the motorcycle, which continued from County Road 1100 North into Maunie. The report noted Ward did not exceed the speed limit during the chase, but he was not stopped until reaching North Street in Maunie. At that time, Ward exited the bike and was placed under arrest.
Deputy Brown during an initial search, after noticing Ward earlier, reaching for his backpack during the pursuit. The report noted the deputy discovered green leafy substances, identified as cannabis,  as well as a syringe containing a clear substance, later identified as methamphetamine.
Ward's excuse for not stopping; he said he was scared by Deputy Brown's bright lights and was only trying to get the motorcycle home.
The motorcycle was towed from the scene.
Ward was charged with several counts including; unlawful use of property, possession of meth, possession of drug paraphernalia, fleeing or attempting to elude police, driving while license suspended or revoked, the white County and Jefferson County warrants. The combined charges resulted in bond at over $10,000 and Ward remained in custody as of Monday.