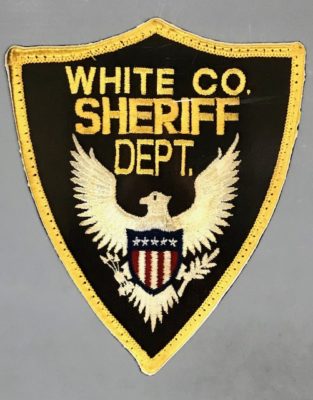 On Friday, October 15th, at around 2:20 PM, Officer's from the White County Sheriff's Department responded to an incident at 403 West Main Street in Crossville over a dispute involving the property.
The caller reported that 37 year old Jeremiah Burnett of Crossville was on the property owned by Zachary Cotton and was putting up "No Trespassing" signs. Officers were advised that Burnett was removing wood from the property and had stated he was going to burn down a garage that Cotton is building on the property. Sheriff Graves explained to Burnett previously that Burnett that no longer owns that property.
When the Officers arrived at 403 W Main Street, they learned that everyone had relocated to Burnett's residence at 807 West Main Street in Crossville. Upon arrival the Officers noticed Burnett standing in his yard on the west side of the property, then observed that Burnett was bleeding from what appeared to be head wounds.  He refused medical attention and said he had been attacked by Dalton Sale, 21, of 407 Oak Street in Carmi.  Burnett also said three trucks pulled up next to his residence on Jackson Street and several other individuals exited the vehicles. Burnett stated that Sale had come onto his property and struck him several times in the head.  After some initial hesitation, Burnett provided a written statement and signed probable cause complaints against Sale and one other unidentified person.  He then requested an ambulance, and the White County Ambulance Service responded and treated Burnett's wounds.
While Burnett was being treated by the White County Ambulance Service, the Officers went back to 403 West Main Street to locate the subjects involved.  When they arrived they noticed a number of vehicles and individuals on the property and told the group that Burnett had signed a complaint.  Sale was arrested and transported to the White County Jail.  Everyone else was advised to go to the White County Sheriff's Department if they wanted to provide a statement about the incident.
Sale was charged with battery and released after posting $100 bond.  There are no other details at this time.