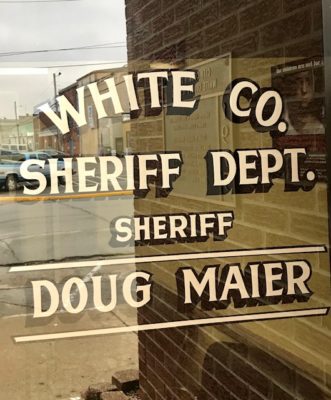 A 21 year old Rockford Illinois man, Nathaniel C. Biggerstaff, was arrested by the White County Sheriff's Office Saturday night, after White County Dispatch received a 911 call in reference to Biggerstaff driving his vehicle in Enfield in an erratic manner. Biggerstaff was believed to be intoxicated.
A Deputy arrived on scene to find Biggerstaff sitting on the tailgate of his 2002 Chevy Pickup. After speaking with Biggerstaff, the Deputy located an opened empty tequila bottle sitting in the front passenger seat of the vehicle. A check of the vehicles registration revealed that the license plates on the vehicle did not match the vehicle's VIN number.
Biggerstaff told the Deputy he knew the plates did not match the vehicle and that he had purchased the vehicle from someone in Norris City.
Biggerstaff was taken to the White County Jail where he was cited for Operating and Uninsured Vehicle, Illegal Transportation of Alcohol, and a Civil Citation for Possession of Cannabis (not more than 10 grams), and Possession of Drug Paraphernalia.