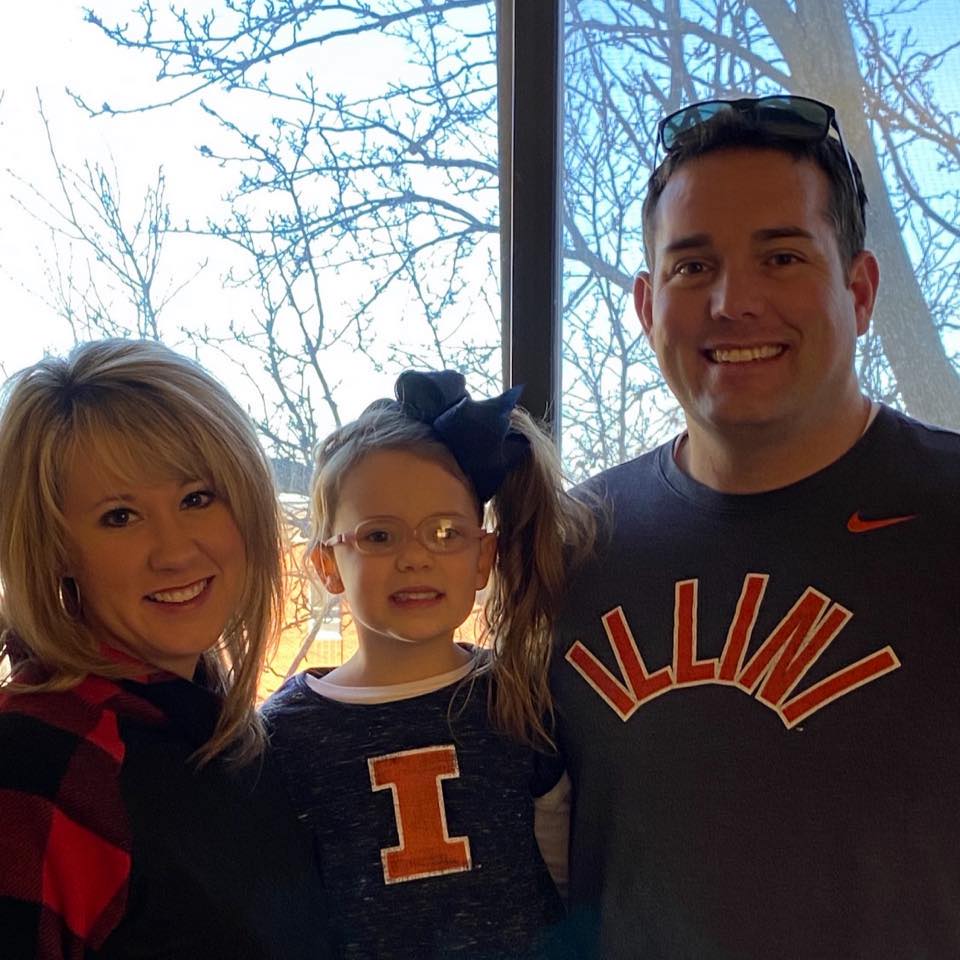 RLC alumna Jordan Divan works as the ministry coding education manager at OSF Healthcare in Peoria.
When Jordan (Frey) Divan was a senior at Hamilton County Senior High School, she knew she wanted to pursue a career in the medical field, but not necessarily on the front lines.
"I knew I wanted to go into something medical, but I don't do the blood," Divan said. "Reading about medical coding, it seemed to me to be a lot more interesting than the hands on."
Divan, a Rend Lake College alumna and Dahlgren native, has worked in the health information management system for a number of years. She now works at OSF Healthcare in Peoria as the ministry coding education manager.
Divan graduated from RLC with her Associate in Arts degree in 2007. She then transferred to Illinois State University for her Bachelor's of Science in Health Information Management. While at ISU, she worked in the HIM department at BroMenn Medical Center in Bloomington.
Her first job after graduating with her bachelor's was working in the HIM department as an outpatient coder for OSF Saint Francis Medical Center. Three months later the hospital was implementing the electronic medical record Epic. She was asked to become the Epic credentialed trainer for the department. After a year, she became the Instructional Designer for all HIM departments across the ministry and its hosted sites.
Divan would stay in that position for nearly 10 years before recently becoming the coding education manager for all 14 hospitals. She said the position was created because there was a need after the hospitals centralized coding to better communicate the ever-changing coding education, especially now as new COVID-19 medications and procedures are introduced.
"When our coding staff became centralized, the department lacked standard education to the coding staff," she said. "Codes, coding rules and guidelines change constantly. We also need to implement a quality assurance program for our coding tam. This would ensure there is timely and effective feedback to our coders regarding coding standards, documentation and education on various clinical conditions and procedures to improve operational performance and quality metrics. With the timely feedback, we can ensure optimal revenue capture. We need to implement the coding education program for our coders to assure accuracy of code assignment as it results to clinical documentation. We did not have that before our decentralized individual hospitals."
Divan said she firs wanted to become a coder after a discussion with her mother's friend who works as a recruiter for health information jobs. Divan said she learned then how versatile and in demand the career path could be.
"Every hospital needs to have you," she said.
Divan is currently working on building and standardizing the coding education program for OSF, which includes education training sessions, lunch and learns, monthly education newsletters and overviews. Because the position is brand new, Divan has the opportunity to put her own ideas into action.
"Getting to develop a new education program is something that I really enjoy," she said. "The way I think of it is trying to put together a puzzle. What is the best way to educate? What tools can be put in place to help them learn to be an excellent coder? What education can we provide to keep our current coders up to date on all the latest changes? If something doesn't work, we scratch that idea and try something new. With a newly formed position, my day to day is ever changing and I love every minute of it."
While she was a student at RLC, Divan was on the dance team and also taught dance classes in McLeansboro for the college. She said her experience at RLC was one that she will always treasure.
"Rend Lake College was the best choice for starting out my college career," Divan said. "It is one of the most affordable options in the area. The scholarship opportunities were limitless which, in turn, helped myself and parents with college expenses. Rend Lake was able to provide all of my general education courses that were required by my major in order to transfer. The campus is small and easy to navigate. You can't beat the class sizes. The one-on-one attention received in classes was very beneficial. The advisors, professors and staff all wanted to help you succeed. They were able to work with ISU to make sure I took the necessary courses. If they didn't have a course I needed, they went above and beyond searching other colleges that did offer it. Without the knowledge and help of the advisors, I wouldn't have had such a smooth transfer to ISU."
Divan said she encourages current and future RLC students to take advantage of the time they have and take charge of their own destinies.
"My advice is to first be sure you know exactly what degree you are getting and what job opportunities are available once you finish," she said. "Utilize the college resources that are available if you need assistance. Never sit back and not get your questions answered. Second, there is not a specific timeline one needs to follow in order to finish their degree. If you can only take two courses because you work full time, do two courses. Everyone's timeline is going to be different, so try not to compare yourself to their timeline. Last, never give up! Keep working. Keep putting in the effort because it will pay off in the end. Your education is your ticket to many great job opportunities. Southern Illinois is very fortunate to have such a wonderful community college."
RLC's Medical Coding Certificate is a great start for students who want to work in the medical field but would prefer to handle the behind-the-scenes action. For more information about the program, visit 
rlc.edu/allied-health/medical-coding
.