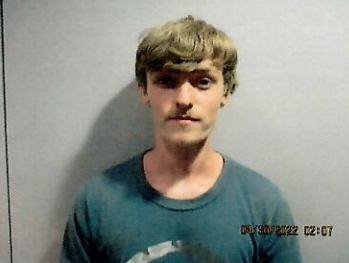 A call to the White County Sheriff's concerning 2 individuals driving recklessly on a utility vehicle, resulted in the arrest of a young Carmi man. Deputy Capehart, with the WCSD was on patrol and noticed a Can AM UTV sitting at Maier Grocery in Crossville. As Capehart went to make contact with the individual, who was identified as 20 year old Joshua C Pollard of 1212 Sycamore Street, he noticed the smell of cannabis. The deputy asked if there was any cannabis in the UTV to which Pollard replied that he did have a bag of weed in his pocket. Pollard was asked to exit the vehicle so the deputy could do a search on him before he takes him into custody. Pollard complied and the search resulted in finding a clear Ziploc bag containing a green leafy substance assumed to be cannabis in a cargo pocket of Pollards pants. Pollard was then placed under arrest and put in the patrol vehicle while Capehart searched the UTV. A black and blue glass cannabis smoking pipe was located in the glove box of the UTV. All items were taken in to evidence. The leafy substance field tested positive for cannabis. The weight of the cannabis totaled 15.37 grams.
Pollard was transported to the White County Jail. The Can Am UTV was towed from the scene by S&E.
Pollard is being charged with Possession of Cannabis in a Motor Vehicle. His bond was set at $250. Pollard paid bond and was released.