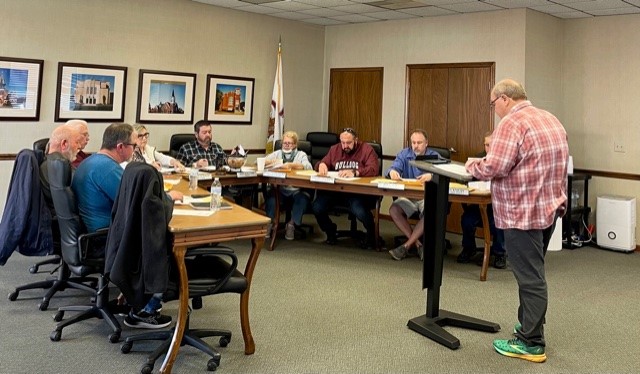 The new Carmi Police Department is coming together nicely according to Mayor Jeff Pollard and Chief Jason Carter.  Pollard praised the city crews who have been working on the former Leggett's Market building at the Carmi City Council meeting Tuesday, March 29.  Once complete, the new department should be aesthetically pleasing complete with uniform blue paint, freshly installed bulletproof windows, parking, sidewalks, landscaping, and a crisp, bright look inside with new furniture.  Hopes are that the Department will be finished by June.
In other council news, an ordinance was passed that will prohibit parking at any time on the west side of the northbound lane of College Blvd from Renshaw to 136 feet south.  In other words, the middle island will become a no parking zone.  That's due to crashes that have occurred.  Chief Carter explains.
An ordinance for the annual appropriations for the City was passed unanimously; as was an ordinance approving an existing building redevelopment project for Stinson Appraisal Service moving to 306 Commerce utilizing TIF funds.  An ordinance surrounding zoning for Michael Serafini was tabled once again in light of a recent death in the family.
Greg Brown, the Airport Manager was absent from the meeting but was on the agenda to give an update.  Brown tells WROY/WRUL News that Carmi should benefit from a new agreement with an aerial information technology client.  The company is expected to use Carmi as a hub for their agricultural business plotting land and identifying field statuses through September.  In addition to housing planes, the company will purchase fuel from the Carmi airport and hopes are that pilots will be spending money in the community.  The city will be renting some makeshift campgrounds for company workers as well.  Additionally, Brown tells us that 660 Grudge Street racing will be coming back to the Carmi Airport with some changes.  The season is expected to run every other Saturday, May 15th through October 15th.