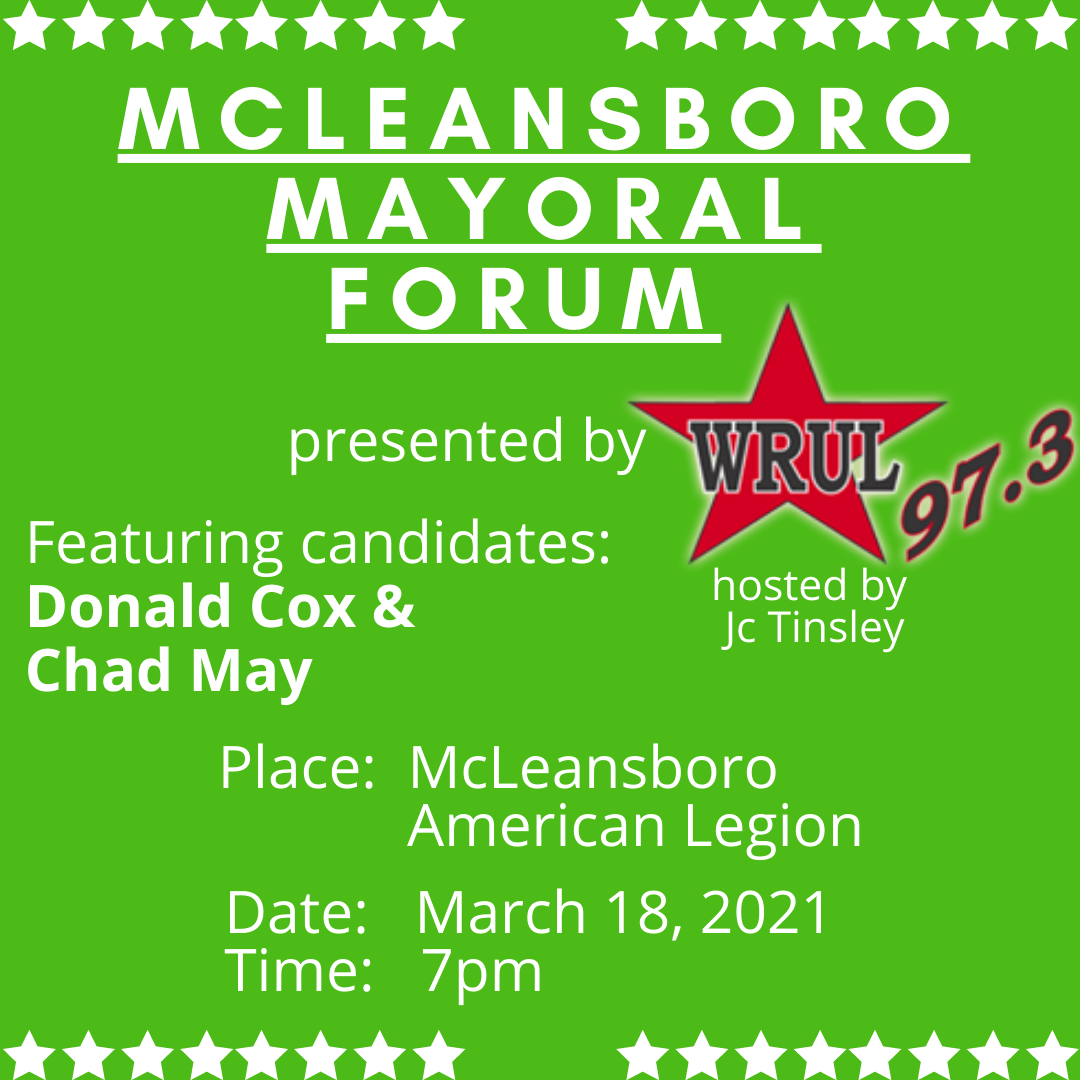 On March 18th, WRUL hosted a Mayoral Forum for McLeansboro candidates.  Chad May and Donald Cox were present and the forum is presented in it's entirety below.  Candidate Sam Wilson indicated he wasn't available to attend the event in person, but offered to answer a questionnaire covering most of what we discussed at the forum.  His responses follow below the audio selection.  Candidate Rodney Hart was uninterested in participating in the forum and did not provide the means to distribute a questionnaire to him.  He was afforded the same opportunities.
McLeansboro Mayoral Forum Questionnaire
Candidate Sam Wilson was unavailable for the in person forum held on March 18th.  In his absence, he did agree to fill out our questionnaire covering a majority of what we discussed at the forum.  His responses are below:
Let's begin with opening statements. Let folks know a little more about you.
My name is Samuel Bryant Wilson
I have lived in McLeansboro for almost 40 years.
I am a Father of a wonderful ten year old son who lives and attends school in McLeansboro.
I was a Big Brother through Big Brothers and Sister of America for 8 years.
I have owned and operated businesses in this community for over 14 years (Wilson's Computers and Fox Communications).
I have served my community for many years:
 Past Chairperson of the Hamilton County Relay for Life (I was the first Chairperson to raise over $100,000.00 for the two year term in Hamilton County)
 Past President of the Hamilton County Chamber of Commerce
 I am still a Board Member and the Treasurer
 Past President of Hamilton County Rotary Club
 Past Master of the Masonic Lodges in Walpole and McLeansboro
 I am Secretary of Polk Lodge in McLeansboro now.
 Past Noble Grand of the Oddfellows in Hamilton County
 I am still treasurer of the Oddfellows
 Recipient of the Department of Defense Pro Patria Award in 2013
 Recipient of the New York State Liberty Medal
 Treasurer of the Hamilton County Democrat Party
 8 Yr. Coach of the Hamilton County High School Cross Country Team.
 7 Year Coach of the Hamilton County High School Track and Field Team.
 Organizer of the Hamilton County Firecracker 5k for the past 12 years.
 Organizer of the Rotary Run 5k and 10k for the past nine years.
 Graduate of Southern Illinois University in Carbondale (Work Force Education and Development) and Rend Lake College (Architecture and Computer Networking).
 Teacher at Rend Lake College for two years.
 Election consultant for the County for the last 18 years (this year I will be doing Mt. Carmel's election since I'm on the ballot here)
I have always had my community in my heart and have always wanted to be able to contribute more to the community. I have planned on running for Mayor for more years than what most of the other candidates have been living in this community for.
Let's begin with some goals. What are the 2 or 3 most pressing concerns facing the city of McLeansboro and how will you address them?
The City of McLeansboro has many areas of concerns, below are a few of them:
1. There is a lack of intercommunication between departments & communication with its citizens.
– I will address this by taking a lead on arranging meetings with each department and finding out what they need to do their jobs better.
– I will also help facilitate ways for the community to voice issues, concerns, and praises for the City Office.
2. The City of McLeansboro also needs to pay attention to the small stuff that is causing big issues in the city. I've never been more amazed by how long something that is so simple to fix takes so long to even get noticed and even longer to be remedied. (i.e. – Sidewalks, trees hanging in power lines, etc.)
– I am on the streets of McLeansboro every day of my life, if there are issues with this stuff then I will be sure to let City employees know, so we can get the issue remedied as quickly as possible. We have a lot of skilled employees, but there is a lack of direction sometimes when there isn't a crisis.
In every community there are general and also unique challenges. Each community also has unique opportunities. Talk to me about what McLeansboro has going for it and what you think are some of the biggest reasons folks should be proud of and optimistic for the future of the municipality.
McLeansboro has a lot going for it.
– It is a hotspot for people from other communities to come and eat at a variety of restaurants we have to offer. The biggest issue with this is that we have nothing else to offer people when they come to the community.
– We also have some major businesses that do tons of business in our community but most if not all of them have little support from the City and County Officials.
– The City might never be a booming city like some of those around us, but we can offer people what they need. We help facilitate more growth with better incentives for businesses. We also have to keep in mind that there are some things we cannot do that places like Marion can offer.
Mayor is no doubt an important role within a city. It's only one position though. I want to know about the other roles within the administration and how having the right person in a mayoral role affects how everyone else accomplishes their jobs. Without getting specific into individuals, talk about functions within the city and what needs addressed. Where is there room for improvement?
– Having the right Mayor can help everyone accomplish their jobs in a variety of ways. A Mayor should be able communicate with everyone around him and help make their jobs better. I would be surprised if most of the departments in the City of McLeansboro have had any communication with the Mayor or Aldermen at any point
over the last four years, other than being reprimanded. It is easy to incentivize good work from the employees and award them when they go above and beyond.
– A Mayor should also have a vested interest in what is going right and what is going wrong within the organization.
Let's talk about infrastructure and spending. The budget for a new city hall…one million dollars.
Some citizens have balked at that. What are your individual thoughts on that? How "needed" is a new city hall…why or why not?
– I think that the budget for a new City Hall is just that, it's a budget. $1,000,000.00 is not a lot when it comes to a new building. The City Officials have been very frugal in its spending in a lot of areas and has a lot of money saved for instances like this.
– I have not seen the plans for the new City Hall building but if it is to house the Police Department and the City offices then $1,000,000.00 will be lucky to sufficiently take care of that.
 The school recently did a renovation of its football facilities that came in at over $2,000,000.00 dollars and only included two small building and some bleachers.
– It may seem like a lot of money to some, but you need to build for the future.
– The current City Hall building is way too small to efficiently host meetings, doesn't have room to get around in, and is very inefficient.
The Izaak Walton Cabin at the reservoir…$25,000 budget for new playground equipment. Talk to me about these investments in the community. Is that the right word? Is it spending that could've/should've been used elsewhere?
– The Izaak Walton Cabin has been a joke since the beginning. The City officials allowed the facility to become ran down in the first place by not taking care of it. They then tried to raise money to resurrect it; it should have just been replaced with a pavilion similar to the other side of the reservoir. It is my understanding that it is still yet unfinished and has yet to be used by anyone.
– $25,000.00 for new playground equipment in that area seems crazy, especially with no foreseeable way of monitoring the equipment during the days and nights.
– What is having playground equipment going to accomplish for that area.
– Will the restrooms and other infrastructure be able to support extra people being in that area?
The board recently voted to renew an agreement with Republic for trash removal, but it was a 4-2 vote. What other viable options are available and should be considered if any?
– If the board voted to renew an agreement with Republic, then why would this even be a question?
– Bulldog is another option for trash removal; if the amount of money between the two was similar then it wouldn't make sense to change providers for a small amount of money, especially if republic has done a good job over the years.
Employee James Joiner resigned at the February meeting nearly 2 years after some pretty serious theft allegations were leveraged. It appears that case wrapped up in a plea deal just prior to his resignation. How do you manage giving municipal workers the freedom to do their jobs and to make decisions and prevent something like this from happening again? If the same situation happened again (let's hop in our way back machine and go back to April of 2019), would you as mayor have done anything different?
– The use of Checks and balances
– Maintaining communication within the departments on a regular and not just by City Alderman, who hang out in the area on a daily basis
– Looking into payments and reorder frequencies compared to the amount of time to use the products
– These could all be used to stop similar situations from happening
Let's talk dispatch agreements. Talk about the agreement reached and what you think should/could've been done differently.
– I have not been privy to the details of the dispatch agreements.
– I do think that sharing resources between the city, county, and school can be very beneficial when done correctly.
Another hot button issue is animal control. There's been a lot of talk at least from the county side, but not much headway has been made. What is the right path moving forward? Is this an area where the county and city should work together as well and if so, how would you facilitate that?
– I have been bit by five dogs in my 24 years of distance running throughout the city and the county.
– Policies and procedures need to be put into effect governing the proper way to control the animals.
– As of lately there are lots and lots of animals that roam around the city and county without having any fences or leashes.
– Without someone who is designated to control this and without the community knowing what the regulations are, there will be absolutely no change any time soon.
– This is another area where cooperation with the city and county will need to be done.
And let's also get into the ambulance. Let voters know where we stand on things now and what you'd like to see moving forward…how will you as mayor attempt to guide or play a role in that most important service?
– From my understanding funds for an ambulance service have been appropriated by the county board and at least one county board member is an owner of one of the companies that is planning on operating in the county. Sounds like a conflict of interest, but that's never changed.
– Our hospital obviously needs an ambulance service or multiple ambulance services to support our community of 8,000+ people.
– As Mayor I would do my best to see that we listen to all the different scenarios that are available for the ambulance service and help make the best informed decisions from the information presented.
Every community and especially its citizens want more opportunity, more jobs, more things to do, etc.  It's safe to say most want the same things, but how to accomplish that is often difficult to agree on.  How will you entice more enterprise to McLeansboro?
– The City of McLeansboro is strapped for space in its city limits. Expansion of enterprise zones in the county will definitely help and renovations of or destruction of buildings on the square can also help spur on the growth of businesses in the city.
– Assistance from the city and county would also help.
 I am a business owner in McLeansboro and have been for many years, I have never once had a city or county elected official stop in; to see if I needed any assistance, if I knew about programs available to help businesses, or anything else at all for that matter.
– Promotion and use of the local businesses for city and county business would also help spur and keep businesses in the city thriving.
What else have I not discussed that you'd like to or feel is important for voters to take into account?
This and your closing statements. 
– Once again, I have lived in the city for almost forty years; I have multiple houses that I own, pay taxes and utilities on, in the City of McLeansboro. I have been in charge of multiple organizations that have multiple business rentals in the City of McLeansboro. I have family and friends that reside in this community and want to see the City of McLeansboro prosper. I want my child to be able to enjoy this community and hopefully one day he is able to have an important role in shaping it as well. I have raised or helped raised over $175,000.00 for programs in and around
the City of McLeansboro. You might find someone who is more qualified for the job of Mayor, but you will not find anyone more committed to this community than I am.