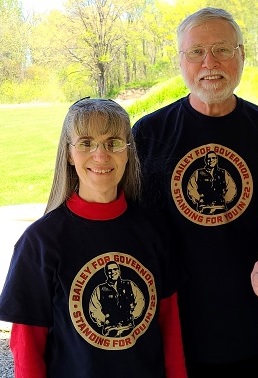 The Carmi Rifle Club still has openings for it's upcoming Brownells/NRA Day scheduled for June 5th.  If you've never shot a gun or even consider yourself scared of guns, that's ok.  As Valinda Rowe, event coordinator says, she herself wasn't always comfortable.
It's all about education.
And that's the first thing attendees will get if they sign up for the event.  Sign up is at 8:30, followed by safety at 9am.  Rowe lays out the rest of the day.
After a picnic lunch, folks get to enjoy what the Rowe's describe as a smorgasboard of options.  It's a chance for individuals to experience and learn more about specific firearms they may have not had the opportunity to before.
The Rowes are Concealed Carry advocates and played a major role in bringing awareness and the legislation itself.
As with so many private citizens who become motivated to get involved in legislation, the Rowes had a very personal reason.
They've taken their role seriously and have officially thrown their support behind Senator Darren Bailey's bid for nomination for Governor of Illinois.  They're hoping to get southern Illinois' voice heard and to break up the supermajorities that currently exist.
You can learn more about NRA Day, the Rowe's, and their mission by listening to the entire conversation here.