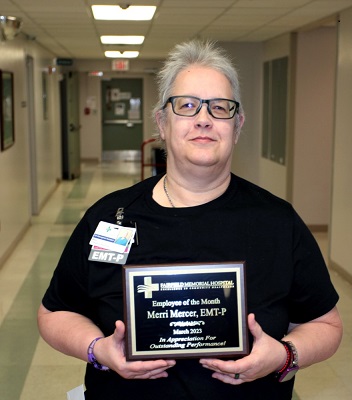 Fairfield Memorial Hospital honors an employee each month who has been nominated by their peers for providing extraordinary patient care and customer services within and outside of the Hospital.
Merri Mercer, EMT-P who works in the Emergency Department at Fairfield Memorial Hospital, was selected as the March 2023 Employee of the Month. Merri has been with Fairfield Memorial Hospital since March of 1993.
"For the past 30 years Merri has been a loyal team member at Fairfield Memorial Hospital. She goes the extra mile to help anyone and always has a great attitude! She has adapted to every change, supported every co-worker and gave thousands of patients a reason to smile. Merri has spent her life serving others. We can't thank Merri enough for the care she has given through the years. We are proud to honor Merri with this recognition." commented Rachel Ewing, RN, BSN, FMH Chief Nursing Officer.
"Merri has dedicated 30 years of service to our community, our hospital and our patients. Merri will jump in wherever she is needed with persistence and focus. She is a mentor to her fellow co-workers and a role model to those around her. Merri is extremely deserving of this award and we are proud to announce her as Fairfield Memorial's March Employee of the Month." stated FMH Chief Executive Officer Katherine Bunting-Williams.