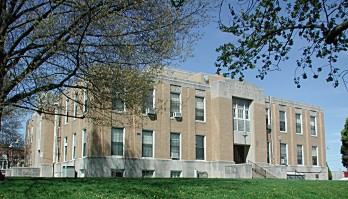 The McLeansboro City Council met last night at the Hamilton County Courthouse.
Mayor Dick Dietz swore in Walter Rexing as Assistant Fire Chief.
The council approved the pay request on the water tower project totaling $85,197.76.  $71,482.40 goes to Caldwell Tank and $11,765.36 to Shawnee Professional Services.  The project is 68% complete and painting of the tower should be done in a couple of weeks.
Concerning the appraisals of property owned by the city, it was decided that they would proceed with the auction process and obtain bids for an auctioneer.
The lien on the property at 210 South Marshall Street was lowered from $3,900 to $2,500.
The city decided to continue to do the mowing at the property used by the saddle club with the bush hog shortly before an event runs there.
They will also proceed with preparing for the Christmas Parade in December, giving more time to see if they can get more entries before considering closing off streets.
The board tabled deciding on an accounting firm to perform audits or bookkeeping tasks in order to explore more options.
The city will use general funds instead of MFT funds for repaving of parking spots by IDOT, as that will be cheaper.
The board approved the purchase of a Chevy truck for the police department from Teffertillers.
Also approved were TIF reimbursements; for Beth Sandusky in the amount of $2,500 and for three properties owned by Don and Ann Burke in the amount of $9,656.12.
A county wide tire recycling event will take place next spring, sharing costs with the county.
The farm lease will be extended one year until next November, then the city will take bids for a three year lease.
Sytex will extend the contract outsourcing rugs and mats for two years, then they will look for a long-term deal with another company.
A gas tap for John Biggerstaff was approved for outside the city limits and the board tabled a water tap for Adam Little.
They also tabled annexing properties outside city limits for insurance purposes to look into the matter further.
It was decided that businesses that are in arrears on paying their utility bills will receive a courtesy call giving them seven days to pay up or be shut off.  There will be a late fee levied to be hooked back up.
Some residents have had problems with dust that has been coming up from the roads that were oiled and chipped, put nothing can be done about it. They need to get some rain that would tamp it down.
And city-wide cleanup days will be held from October 26-29.