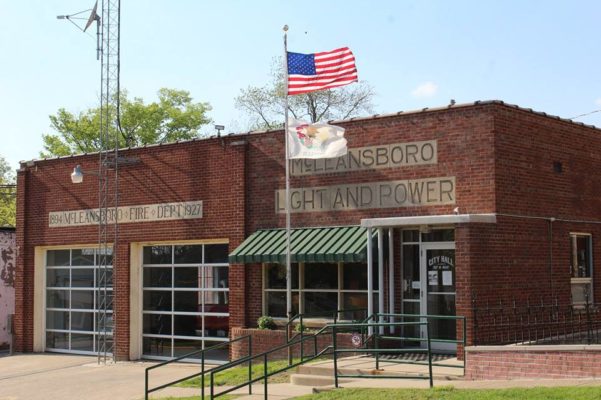 Mcleansboro City Council met in regular session last night by conference call due to the coronavirus.
Ron Martin of Shawnee Professional Services addressed the council about the water tower project.  Over 50% of the line work is done as of now.  There are four invoices that need to be paid, two for the contractor and two for Shawnee, totaling $86,454.69.  The members unanimously approved the pay request.  The steel for the tower should be here very soon and the construction crew should come in sometime next week.  A critical phase inspection of the tower was approved from Mid-South Tank Consultant for a total cost of $11,000; which is $1,100 per trip for ten trips.  Also approved was the paint color:  Tank white with the city's name in green letters.
They accepted the low bid of $69,910.45 from Sharp Stone and Concrete of Norris City for the ADA compliant sidewalk replacement project on Pearl Street.
The aldermen approved $6,910 for the purchase of fireworks, which they would be able to order at any time with two weeks notice, due to not knowing when the city would be able to find a good time to hold a fireworks display because of not knowing when the Governor's Phase-In plan will allow it to be held.  As a procedural matter, they approved a date of July 4th at 9 PM with a rain Date of July 5th at 9 PM.
They agreed to move forward to get specs from the engineer for the bridge replacement on Market Street.
The city committed to paying up to 25% annually for replacement of streets above and beyond motor fuel tax money that would be allotted for a designated street program.
The board members decided by a vote of four to two to not open the city pool this year due to employees there not knowing if the Governor's Phase-In plan would allow the pool to be open and for the safety of the public.  Aldermen Biggerstaff and Glenn voted against the measure.
The council members gave the go-ahead to set the wheels in motion to participate in the Downstate Small Business Stabilization Program.
City-wide cleanup days will be June 22nd to the 25th.  There will be two dumpsters put out each day to deposit the trash in.
Three items were tabled.  The purchase of a new or used mowing tractor and the bidding of the hay bailing at the airport as bids are still being taken; the evaluation and price setting of liquor licenses as more discussion is needed and the construction of a three sided lean-to shed to be located near the light plant for storage of city equipment to continue to look into pricing.
An executive session was held to discuss employment of a specific individual and discussion of minutes legally closed under the Open Meetings Act.