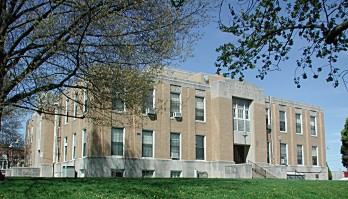 At the special McLeansboro City Council meeting held at the Hamilton County Courthouse yesterday afternoon, there was a lengthy discussion of the possible funding options for the proposed sanitary sewer lift station.
Mike McKey of the Illinois State Department of Agriculture went over the figures with the board about the project.  He noted that if they were willing to spend approximately $10 million, there would be a fixed interest rate of 2.375% per year for 39 years.  If they could complete the pre-application process by the end of this month, the interest rate would drop down to 1.125%, about a $30,000 per year savings.  But, McKey said that the higher the interest rate, the more grant money the city would be able to get.  The environmental impact report would also have to be amended, at a cost of about $10-15 thousand.  Also, sewer and water rates would have to be raised, but that won't happen until the city actually gets the go-ahead to do the project.
A cost-estimate will be presented and they will move forward with the pre-application at this month's regular board meeting to be held on Tuesday, September 8th.
Also at this special meeting, the board approved the Supplemental Resolution for Maintenance of Streets and Highways by the Municipality under the Illinois Highway Code, for $34,000 worth of additional materials.