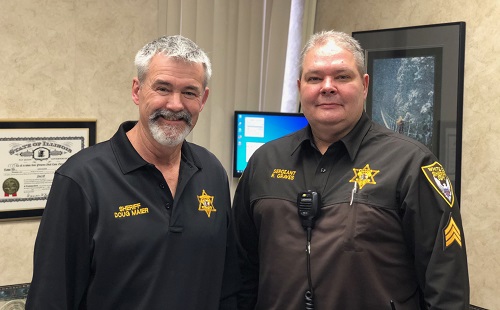 After 42 years in law enforcement, 39 with White County and 18 as the Sheriff, Doug Maier says it's time to retire.  Sheriff Maier spent his first 3 years in law enforcement in Wabash County before serving 21 years as a White County Deputy.  He was elected to the county's top law enforcement post in 2002 and while he's enjoyed his time, he admits there are a variety of reasons that called him to step down now.
"There's actually a variety of reasons Jc.  Some of it simply, I see the atmosphere now with these new laws coming and I think the environment isn't what I'd like it to be.  Some of it's I just want to spend more time with, I've got a little grandbaby now that I just absolutely love being with and I wanna spend a little more time with her.  And bottom line, it just felt like it's time.  Like I said, I've been honored to serve the people of White County the length of time I have, especially as their Sheriff, but I just kinda got the feeling that it was my time to enjoy life a little bit more."
The mental weight of dealing with the politics of the job is an understandable pressure.  Despite that, Maier has nothing but appreciation for his constituents.
"It wears on you…the news…and all the law enforcement bashing and we always seem to be the bad guys.  It makes it more difficult to do our jobs.  The new laws are going to restrict a lot of the things we do now.  But I would say that the people of White County have been extremely gracious to law enforcement.  There's something good that comes out of everything and I believe people here have been more likely to express how much they appreciate what we do because they see all this stuff on TV.  There's no question it's going to be more difficult for law enforcement to do their job as we have done so in the past."
Maier has accomplished plenty over his tenure including 5 murder arrests that all resulted in convictions.  His biggest source of pride however is the people and relationships he's been fortunate enough to forge.
"When people say we've got a good Sheriff's Department, they don't mean me…they mean my department and I've had the luxury of having very quality people stay with me for a very long time.  We've had a great relationship with the Carmi Police Department and the State's Attorney's office and you don't see that everywhere, so I'm probably as proud of that as anything.  I do think that we've made a difference to the citizens of White County and I'm proud to have been a part of that.
Maier made his announcement at Monday night's White County Republican meeting.  The sheriff's term isn't actually over until December of 2022 which means he made a recommendation for who should take that role.  The County Board will hear and consider the recommendation of Sergeant Randy Graves at their February board meeting.  Maier's last day on the job will be February 28th and Graves will take over on March 1st.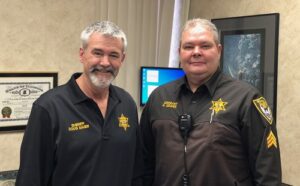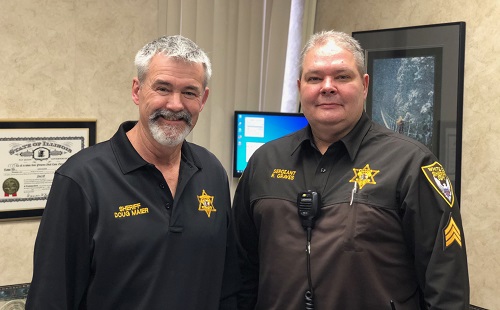 Graves began his career working at the jail in 1991 and will begin his 31st year of service on March 8th.  While working at the jail, he also worked for the Norris City Police Department and eventually was hired to fill the spot on the roster created when Maier was elected to his current position.  Graves explains some of the difficulties he's anticipating.
"It's gonna be hard with all the new laws coming out.  We're gonna have to go through them all; go through them with the State's Attorney.  We're gonna have to adjust the way we do things…eliminating cash bail…if you catch somebody doing something, right now we take 'em to jail and they have to bond out.  When that takes effect, basically, we're going to write 'em a ticket, given 'em a court date and send them back to their house.  They don't stay in jail…that's going to be one of the big changes here in White County.  The public's not gonna understand why they're getting arrested and not being put in jail."
Maier adds if there's no consequence, perpetrators will figure that out very quickly.  Additionally, you may have noticed http://www.whitecountyjail.com is no longer functioning.  There's nothing wrong with your web browser.
"We've took our website down because I don't know if we're gonna be able to put up inmate information up on the website.  There's just a lot of changes."
On March 1st, Graves says you shouldn't expect any major changes in the philosophy behind how the department has been run.  What the state mandates may affect us, but he's aiming to hold serve.
"I feel that Sheriff Maier has run a pretty good department.  We've got a bunch of good people here.  I don't plan on changing a whole lot.  With this new bill, there will probably be things we have to change and it's nothing that I really want to do.  It's just state mandated.  Doug Maier's been a great Sheriff and I'm just gonna try to follow what he's been doing."
The White County Sheriff Department employs around 32 people between deputies, dispatch, corrections officers, and court security.  No word yet on a farewell reception yet for Maier, but there will almost certainly be one and we'll bring you those details when they emerge.  The Sheriff's Department can be reached at 618 – 382 – 5321.
Maier released the following statement on social media Tuesday:
It is with mixed emotions that I inform you I will be retiring as White County Sheriff effective March 1, 2021.
It has been an honor and privilege to have served the people of White County for the past 39 years, serving as a deputy for 21 years and as your Sheriff for the past 18 years. I am extremely proud of my Sheriff's Department and the people who work beside me. I have been very fortunate to have served alongside them, and owe a great debt of gratitude.

Thanks to those who have supported me as Sheriff. I am humbled to have been elected to this position 5 times, and I hope I have made you proud of our Sheriff's Department.

I would like to thank Bob Duckworth for his faith in me when he hired me some 39 years ago. He has been a good friend and mentor.

I hope to enjoy my retirement and spend more time with my wife and my children, and especially my granddaughter Myer May.
Doug Maier

White County Sheriff