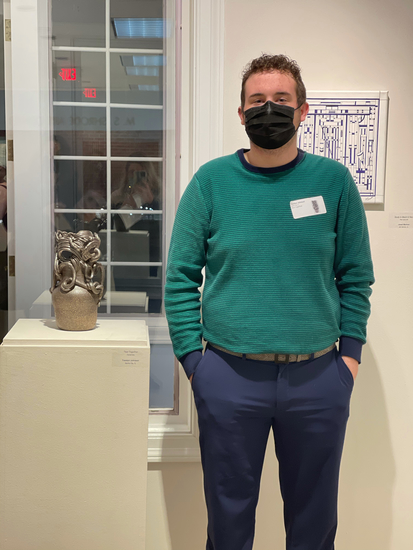 HARRISBURG, Ill. (March 11, 2021) – Trenton Johnson, Norris City native, had one of his works of art selected to be in the Shrode Fine Art and Craft Competition and Exhibition at Cedarhurst Center for the Arts in Mt. Vernon, Illinois.
This annual exhibit is open to all artists 18 years of age and older living in Southern Illinois, south of Interstate 70. Artists may enter a variety of media including painting, drawing, printmaking, clay, fiber, mixed media, wood, fine jewelry, metal, and sculpture. This year 143 works of art were submitted for judging and 40 works were chosen for the exhibit by guest judge Peter Olson, Assistant Director at the Northern Illinois University (NIU) Art Museum in DeKalb.
Olson has 28 years of experience in the museum field. He has curated and installed over 100 exhibitions and also manages the permanent collection NIU. He holds a Master's in Fine Arts in printmaking and continues to create and exhibit his own work. Olson thoughtfully and carefully deliberated over each individual entry, choosing Johnson's stoneware piece entitled Tied Together, inspired by pottery made during the Jōmon period in Japan.
Johnson, who is only 19, began taking ceramics classes at the Shrode Art center while still in high school at Norris City-Omaha-Enfield. This is his second piece to be accepted into the exhibit in the two years he has been eligible to submit.
"It is redeeming to have other experienced artists select your work," Johnson says.
The piece selected for the exhibit is titled Tied Together. It is a stoneware piece inspired by pottery made during the Jōmon period in Japan.
Johnson is also an art student on scholarship at Southeastern Illinois College, which he says has inspired him "to create work outside of my comfort zone and normal style."
"It is always a goal of mine to see students' artistic styles mature," says Sara DeNeal, SIC art instructor. "I am so proud of Trenton's growth, and that he has 'made the wall' at the Shrode Art and Craft Competition. It's quite an accomplishment!"
The Shrode Fine Art and Craft Competition and Exhibition can be viewed in the Regenhardt Gallery of the Shrode Art Center at Cedarhurst now through May 2. For more information about the exhibit, visit www.cedarhurst.org/RegenhardtGallery.html