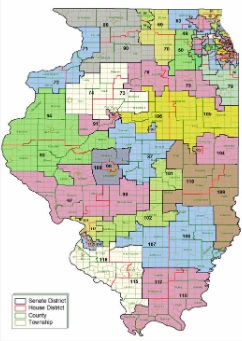 Portions of this story contributed by IRN
Illinois House Republicans say Democrats are picking their voters by drawing new legislative boundaries behind closed doors.
Several leading House Republicans held a news conference outside of a room inside a building at the capitol complex they say Democrats are secretly drawing maps. Peoria Republican state Rep. Ryan Spain said the Republicans also have a map room they opened up to the press.
Democrats say the links are now operational on their website. Democratic state Rep. Elizabeth Hernandez said after concluding more than 20 hearings, they're now getting input from legislators to draw the maps.
Locally, representatives are speaking out against the process as well, specifically trying to pressure the governor.  House member Patrick Windhorst says…
Fellow representative Adam Niemerg echoed that accusing Pritzker of flip flopping…
Republicans say it's premature to start drawing lines without all the Census data and politicians shouldn't be picking their voters. The GOP has also been pushing for the creation of an independent map-making commission.