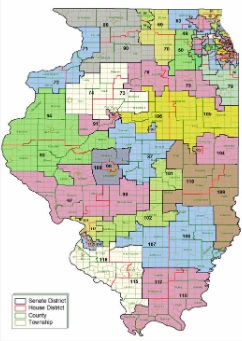 IRN (The Illinois Radio Network) assisted with information for this story
Republican lawmakers are calling on Gov. J.B. Pritzker to keep a campaign promise and veto the proposed legislative maps released by Democrats Friday night.
Redistricting is the process of redrawing the boundaries of district maps for both chambers of the state legislature, as well as other units of government. The process is completed every 10 years following the U.S. Census, but final census figures are not yet available.
Democrats control both the Illinois House and Senate, giving them the upper hand on the redistricting process and the drawing of district boundaries.
During a news conference Monday, House Minority Leader Jim Durkin, R-Western Springs, said the new maps are drawn mainly so Democrats can keep their political power in the state.
"We we've seen here today is the lowest of lows for the House Democrats, which quite frankly, I did not think was possible after Mike Madigan disappeared," Durkin said.
Democrats, in a news release Friday, said the proposed maps took into account "robust public input" and population data from the American Community Survey. The map would consolidate districts, forcing some incumbents, mostly Republicans, to face off against each other in 2022.
"This proposed map amplifies the diverse voices of the people of Illinois, allows communities to be represented by people of their choice and ensures that every person in our state has a say in government," said state Rep. Elizabeth Hernandez, D-Cicero, chairperson of the House Redistricting Committee.
Representative Dave Severin (R-Benton) said the whole process is par for the course for Illinois.
Republican leaders are continuing to call for an independent map commission. In the meantime, they are asking Gov. J.B. Pritzker to veto the proposed maps, saying if he doesn't voters will be disenfranchised.
Represnetative Adam Niemerg (R-Dieterich) says, "This proposal does not pass the fairness or the transparency smell test.  They finally admitted that they only used the incomplete population estimates of the American Community Survey (ACS) instead of the U.S. Census that is legally mandated by the U.S. Constitution, and takes place every ten years. This is the accepted data for the re-map process because it is more accurate and complete on the actual population. That data is expected to be out in the summer."
State Rep. Avery Bourne, R-Morrisonville…
A request for comment from the governor's office went unanswered.