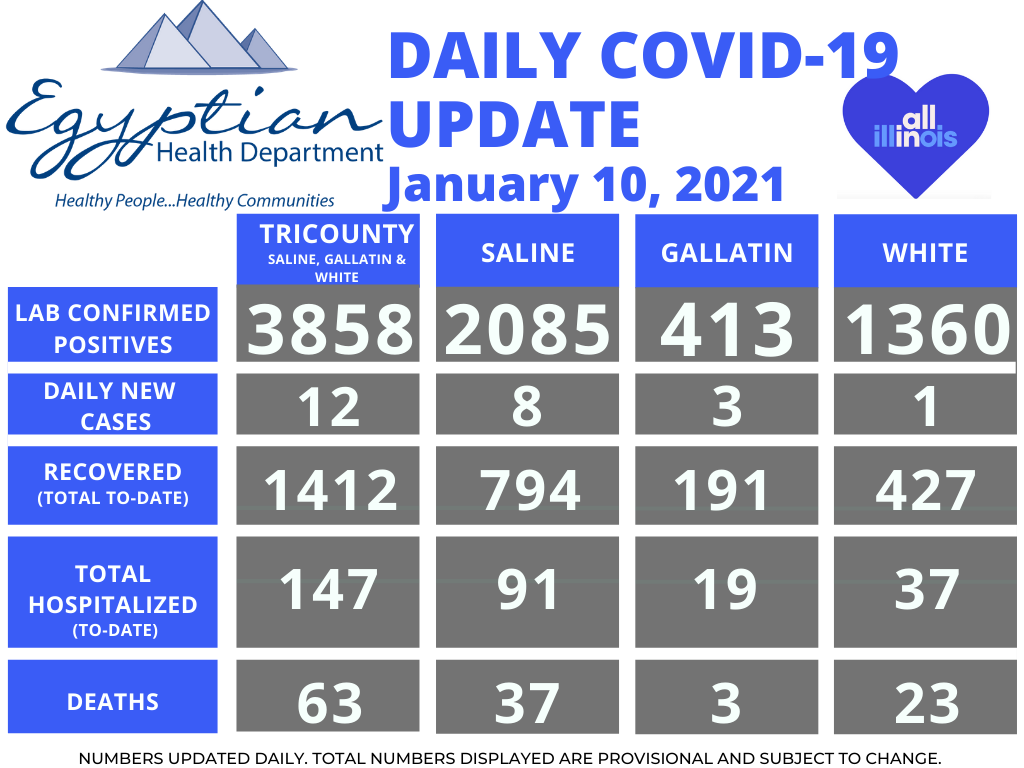 It's possible things are finally improving with regards to the novel coronavirus as a slower weekend of new positives has been recorded in the tri county area.  Sunday, just 12 total new positives were announced including just 1 in White County.  There were 19 fresh cases reported Saturday including 9 in White County and no new cases in Gallatin County.  Friday afternoon's report comprised of 40 new tri county cases and 2 new Saline County residents who have passed away.  The Friday numbers included 22 White County residents.
The latest cases bring the total number of lab confirmed positives in White County to 1,360, or just under 10% of the entire population.  23 White County residents have died directly from or due to complications of CoViD-19.  Gallatin County has reported a total of 413 positive cases, just over 8%.  Saline County has had 2,085 positive cases; that's 8.7% of the county's populace.  A total of 63 tri county residents have lost their lives since the pandemic began due in some way to CoViD-19.
Hamilton County officials didn't update their numbers on Friday and they typically don't provide weekend updates.  The Wayne County Health Department announced late last night 9 new cases.  That brings the total to 1,310 total cases there including 45 deaths.  107 people are currently in isolation in Wayne County and 2 are reported as hospitalized.  We expect an update from Edwards County on Wednesday.  They stand at 444 total cases as of January 6th.