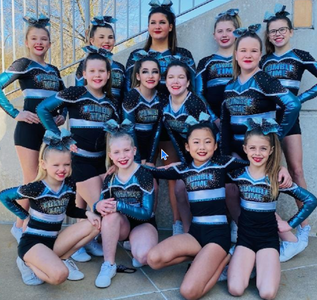 Carmi, Illinois – March 26, 2021 – Tumble Time Cheer and Fitness, a local cheerleading training facility, is proud to announce that their team has been selected to compete at one of the nation's most prestigious cheerleading competitions, The Summit, produced by Varsity All Star.
The Summit, held at the ESPN Wide World of Sports® Complex at the Walt Disney World® Resort April 30th- May 2, 2021, is the season-capping goal for many competitive All Star teams. The 2019 Summit showcased more than 1,500 teams and 24,000 competitors from around the globe.
"Teams competing at The Summit must receive a bid at a prior competition to be eligible to participate," says Brian Elza, Co-General Manager for Varsity All Star, which is comprised of multiple All Star competition brands under the Varsity Spirit umbrella. "That's what makes The Summit so rewarding for the competitors. If they don't climb their way to the top throughout their season, they won't make it
to The Summit."
All Star cheerleading is a discipline of cheerleading that is open to all ages and skill levels. "We like to think of All Star cheerleading as the most inclusive sport available to young athletes. Truly anyone can find a local gym, join a team, and attempt a climb to The Summit." adds Tres LeTard, Co-General Manager for Varsity All Star.
In order to make it to The Summit, Tumble Time Infinity Elite athletes had to succeed at a bid event held earlier in the competitive season. As bid event competitions took place all across the country over various weekends this season, cheerleaders were glued to Varsity TV on Monday evenings to find out if their weekend's performance qualified them to join their elite peers in Orlando.
The Tumble Time Infinity Elite athletes will be competing April 30th- May 2, 2021. Fans at home can watch a livestream of the event on Varsity TV on Varsity.com. For more information on The Summit please visit Varsity.com.
"We are beyond excited for these girls! They have worked so hard this season to push to be the very best they can be. Covid really put a damper on last year's season and the start of this year, but these girls were fully committed to having a season. They continue to push through each week to build and get better. Summit is a huge deal and is full of the best of the best teams around and we are forever grateful for this opportunity. This is our first time ever getting an at large bid so this is HUGE!!" stated Tumble Time owner and team coach, Whitney Barbre.
The Tumble Time Infinity Elite Cheer team is currently hosting fundraisers to help cover the team's competitions fees, along with lodging and travel fees. If you are interested in helping these girls participate in a once in a lifetime opportunity there are many ways. You may donate through their Facebook fundraiser, Tumble Time Infinity Elite Virtual Bucket Brigade Team Fundraiser or at their live bucket brigade on April 17th from 8am – 12pm at the intersection of Oak St & Main St in Carmi or the 4 way stop in Crossville. Businesses interested in a sponsorship may contact Tumble Time at 618-382-3933 to participate in a t-shirt sponsorship fundraiser.