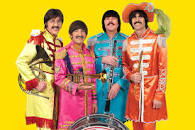 Eldorado Town and Country Days this Weekend
Local residents that can't find anything to do this coming weekend, need to look at little harder as there are festivals in Fairfield, New Harmony and Eldorado.
Eldorado's annual Town and Country celebration gets underway at 5 Wednesday evening with the official opening ceremony featuring the Eldorado American Legion Post 169 and VFW Post 3479 color guard. Ron Gidcumb will sing the National Anthem and the Eldorado Pre-K classes will also sing.
There will be a cake walk at 5:30 and the VFW bike giveway.
Bingo hosted by Coleman Tri-County will run from 6 until 10. Carnival rides will open at 5, with discount armbands available for $25. The Junior Women's Club Baby Photo contest will get underway at 6:30 with the big pageant to start at 7 Wednesday evening.
Thursday will open with registration for a 5K run/walk at 5 p.m. sponsored by the Eldorado FFA. The walk run will begin at 6. Big Wheel races, sponsored by First Southern Bank will begin at 5:30. The carnival rides will open at 5, with armband discounts available again. The Eldorado Alumni Band performs at 5. There will be bingo again Thursday night, hosted by the Egyptian Health Department.
Thursday's musical entertainment has a gospel flair and includes Bringing Home and Renee at 6 and 7 respectively.
Friday will be busy with the 5 o'clock cakewalk sponsored by EHS FCCCLA. Carnival rides will open at 6 Friday evening, with discount armbands still available. Bingo, hosted by Stress and Trauma Center runs from 6 until 10.
The night's musical entertainment includes the Reunion Band at 7 to be followed by crowd favorites; The Liverpool Legends, one of the top Beatles tribute bands in the country. The "legends" will take the stage around 8 Friday night.
Saturday opens with biscuit and gravy at Eldorado Middle School. The Kiddie parade is set for 10 Saturday morning. The giant Town and Country parade will line up at Clearwave on Fourth Street beginning at 11:30, with the parade set for 1 Saturday afternoon. Kiddie tractor pulls, cakewalks, bingo and the carnival will round out the day.
Saturday night's musical entertainment opens with Matt Poss at 6:45. Poss will be followed by Mo Pitney at 7:30 and Darryl Worley will wrap up the festival as he takes the main stage around 8:30 Saturday night.
Organizers of the annual Town and Country Days urged everyone to make it to the celebration and thanked everyone who has contributed to the festival.